1830 – 1833 Sarah Susannah Marshall
Sarah Susannah Martin was born in the East Indies in 1812. On July 24th 1830 she married a widower Captain Thomas Marshall of the Bengal Artillery.
He had originally married Caroline Dring in 1822 and they had four children until Caroline died in January 1829.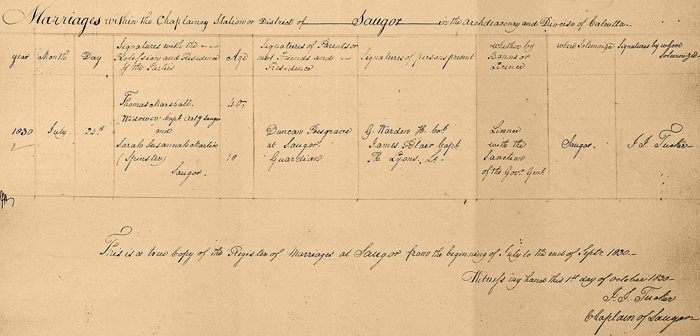 The marriage certificate above shows that Sarah had a guardian named Duncan Presgrave as presumably both her parents were dead or not living in India. The certificate below shows Duncan Presgrave's own marriage in 1831. Both Thomas and Sarah were present.

1831 Birth Mary Caroline Marshall
Thomas and Sarah's first child Mary Caroline was born in July 1831 and baptised 17th December.

1832 Birth Marley Duncan Marshall
Thomas and Sarah's second child Marley Duncan was born 2nd July 1832 and baptised 16th July.

1832 Death Mary Caroline Marshal
Thomas and Sarah's first child Mary Caroline tragically died and was buried 31st July 1832 aged 1 year 14 days in the same month as the birth of their son.

1833 Death Thomas Marshall
Sarah's husband Thomas died in July 1833. He was 45 years old.

1833 Marshall orphan children
The edited document below shows the Marshall children living at the time of his death. The first three were sons of his first wife Caroline. The children were moving to England to live with one of Caroline's sisters.
The fourth child Marley Duncan Marshall returned to England with his mother, he is listed on the 1841 census as a 8 year old pupil in Stoke Newington London.
He is listed in 1850 as a merchant seaman at Plymouth but nothing more can be traced.

---
Sarah Susannah Marshall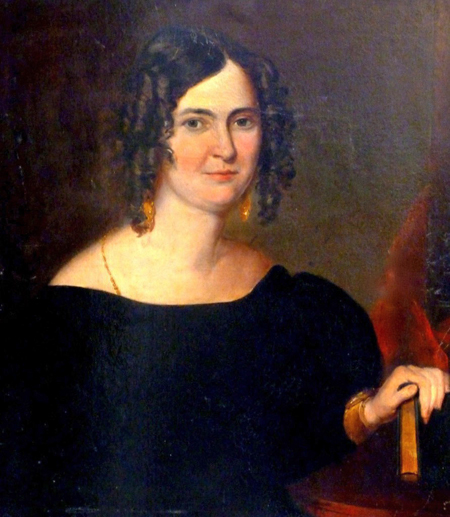 ---