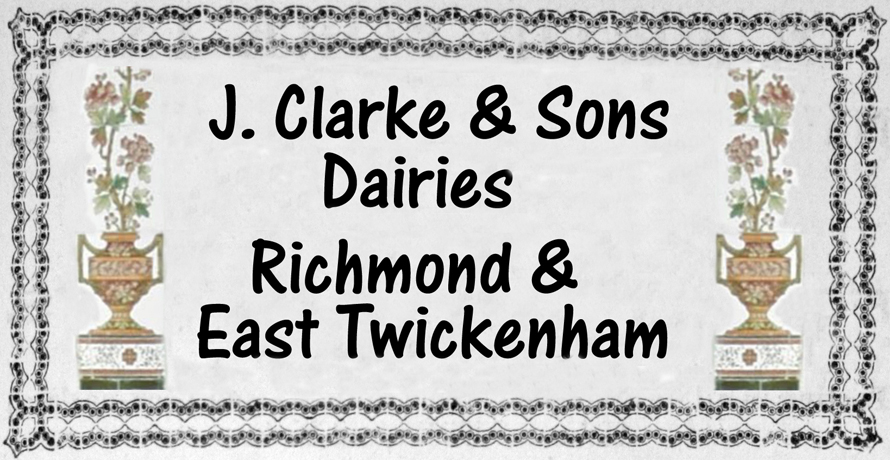 1890 Josiah Clarke moves to Richmond
The Clarke family moved from Paddington to Richmond in 1890 to take over the dairy business that had already been established at 14 Upper Hill Street Richmond.
The premises known as Sudbrook Farm Dairy were initially started in 1852 and managed by William Lillywhite who was succeeded by James Gait who had married Lillywhite's daughter Mary Ann. William Lillywhite died in 1874 aged 77. Mary Ann Gait (his daughter) died aged 48 in 1884. Her husband James continued the business for several years before selling to Josiah Clarke and moving to Petersham.

Josiah Clarke is listed on the 1891 census above with his family in Upper Hill Street Richmond. Josiah had married Helena Conroy in London in 1866 and over the following twenty years raised a dozen children.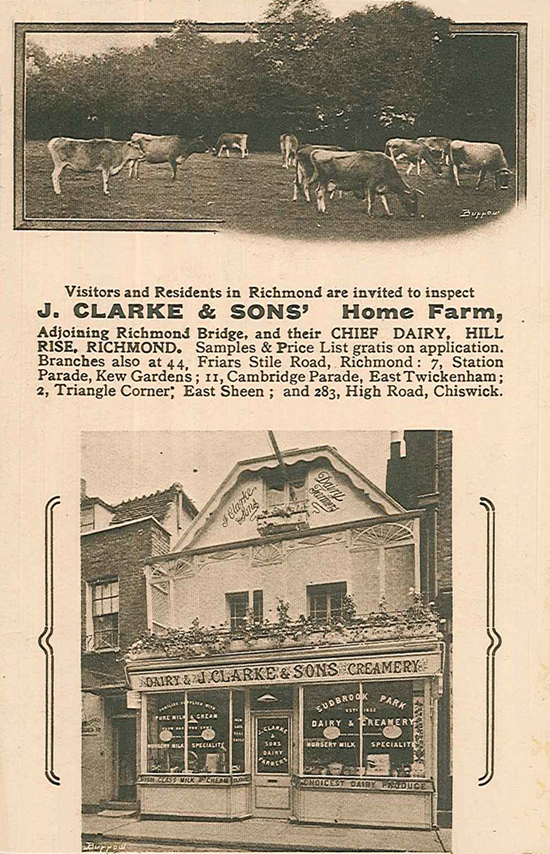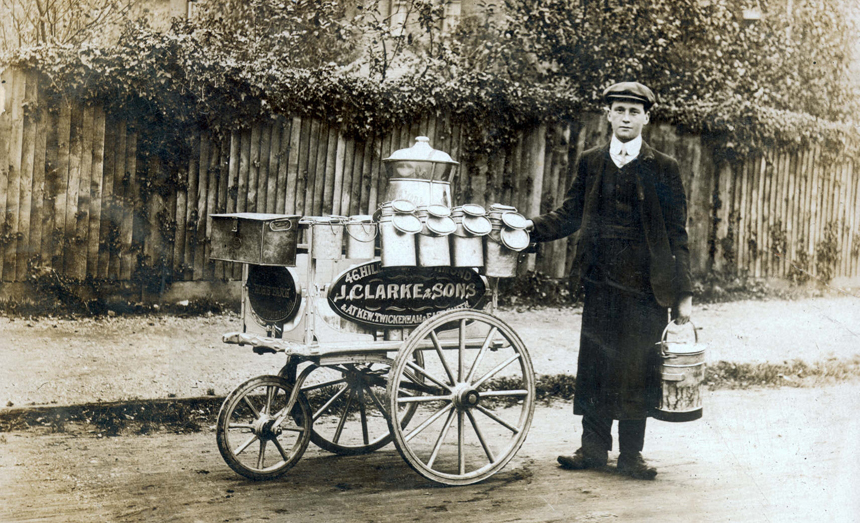 ---
1901 Census Cambridge Parade Richmond Road
The Clarke family by 1901 had expanded their dairy business and had opened a second shop in the newly constructed Cambridge Parade in Richmond Road East Twickenham. The census below shows the family living above the shop. The premises were jointly used as a sub Post Office being staffed by his daughters.

The picture above shows Clarkes Cambridge Parade shop at around this time. It's the first shop with a white awning next door to Vennell's grocers shop.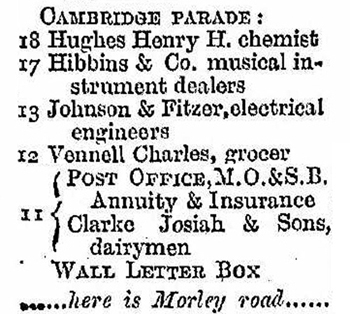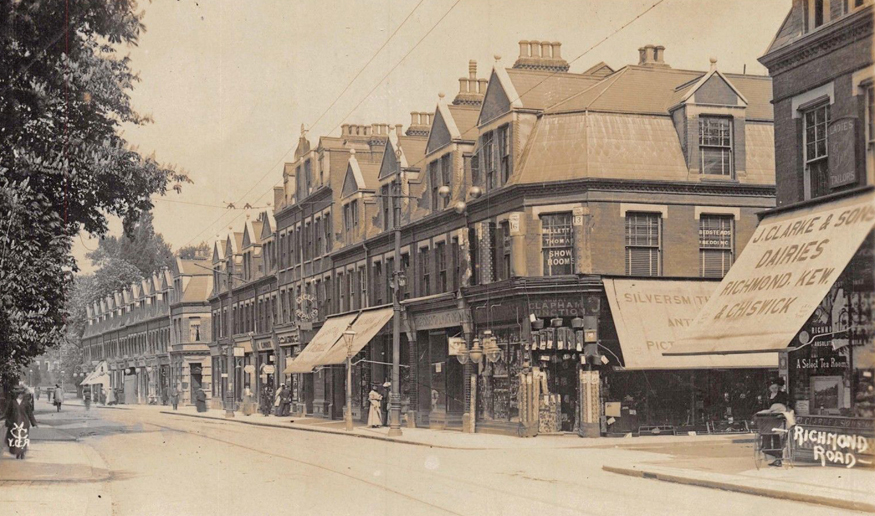 The Clarke family as part of their expansion into East Twickenham developed the meadow area off Park Road and established the Home Farm. They also acquired 18 Park Road as a temporary residence before moving into the larger property named Park Lodge also in Park Road.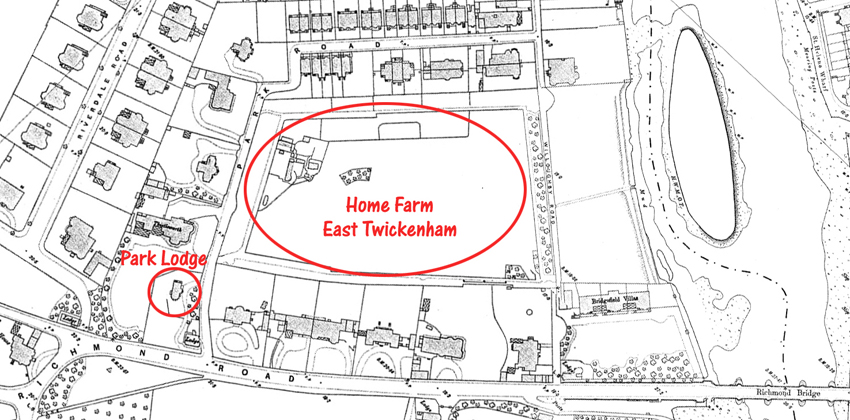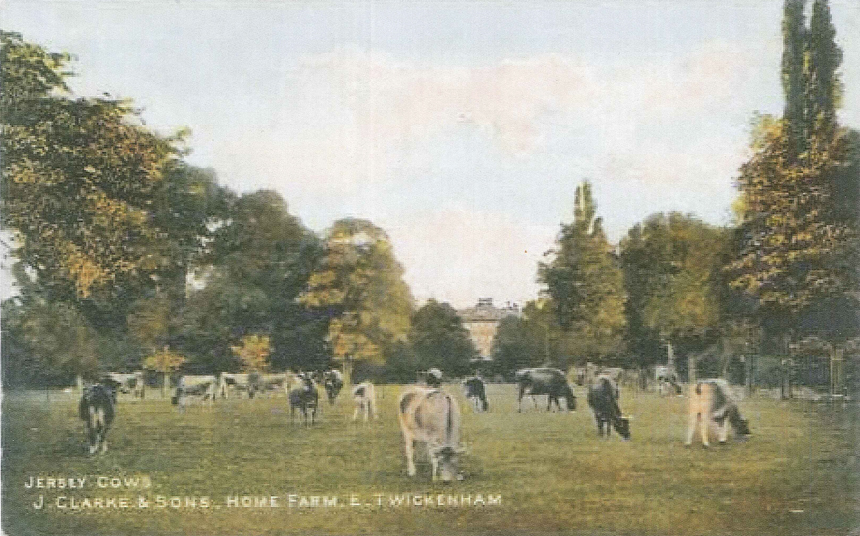 Home Farm off Park Road would appear to have supplied nursery milk with the majority of the milk supply coming from Petersham and also Harrow farm Shepperton which was managed by George Gait, we presume a relative of James Gait the previous owner of the Richmond premises.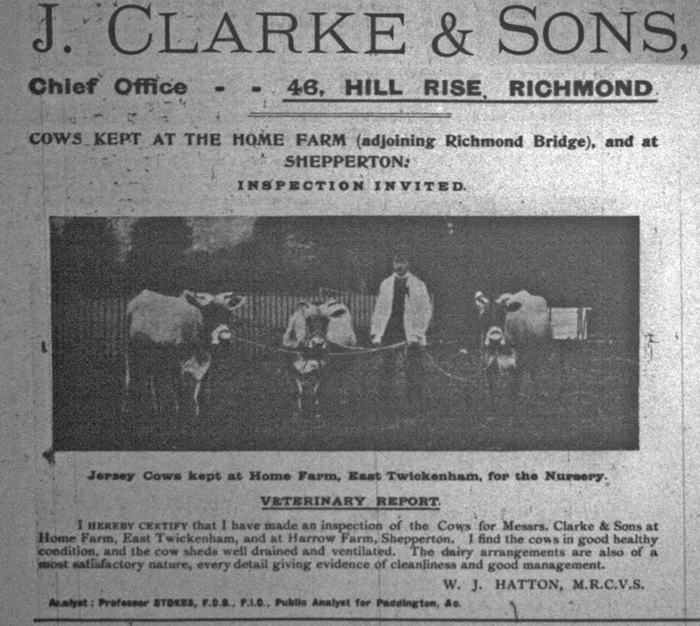 ---
1903 Expansion to Kew
The Clarke's opened their next dairy shop close to Kew Gardens Railway Station. The property was at 7 Station Parade, with their competitor H E Hornby opening a rival shop at number 16.

The Clarke shop was in the left hand side parade. It is now a Starbucks coffee shop. Hornby's shop is now a butchers.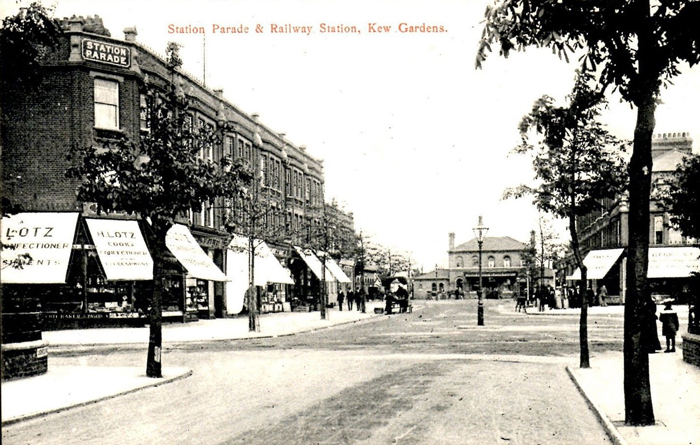 Milk was sourced locally and also from a number of Dairy farms in the Home Counties. Use was made of the extensive railway network for milk churns to be delivered from farm to Richmond Station for collection by the dairy. The newspaper below from 1904 shows adverts for milk from J Clarke & Sons and F & H E Hornby.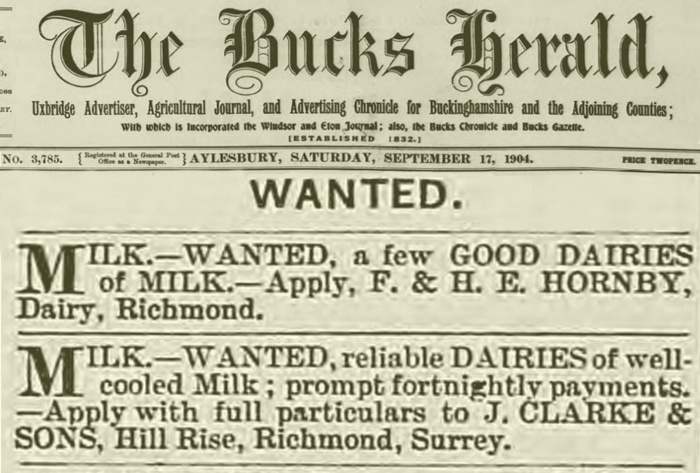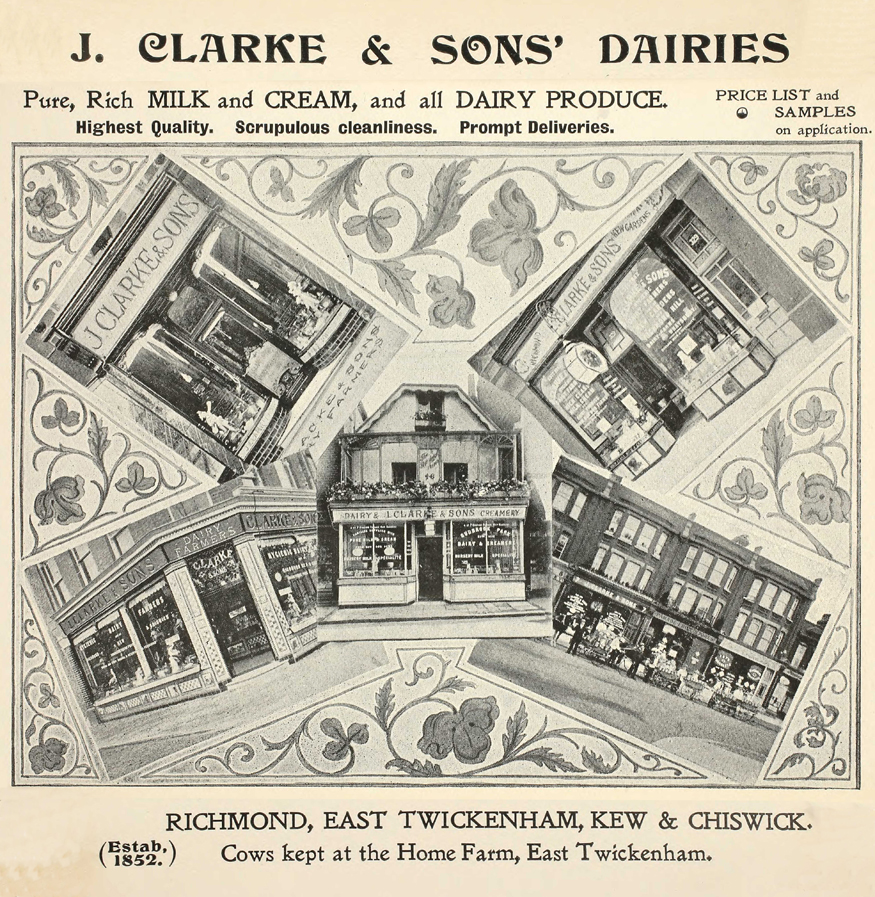 ---
1906 Clarke family East Twickenham

The electoral Register above lists the two properties the family were occupying at this time. The shop in Richmond Roadis shown below from 1904.Park Lodge is photographed below in the 1970s.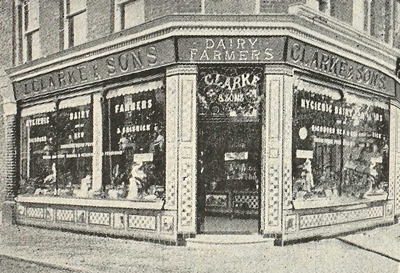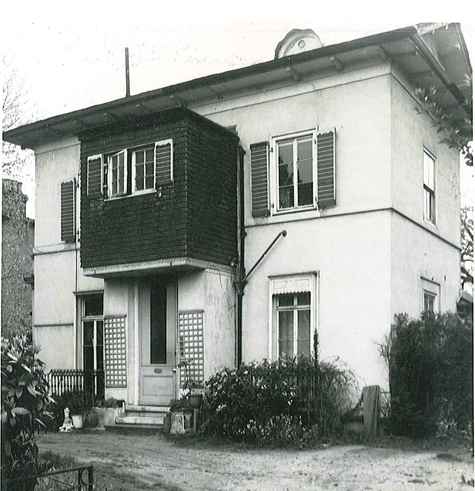 ---
1911 Clarke family Park Lodge East Twickenham
The census below shows the Clarke family resident at Park Lodge. Sadly Josiah's wife Helena died here in 1908. At the time the census was taken Josiah was in Liverpool.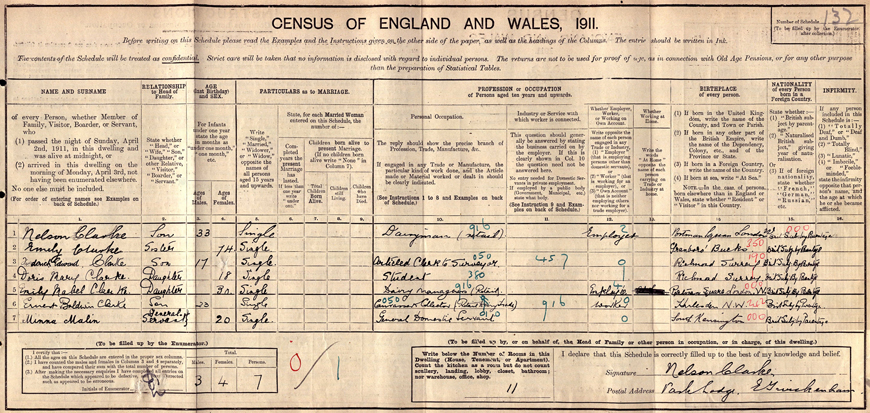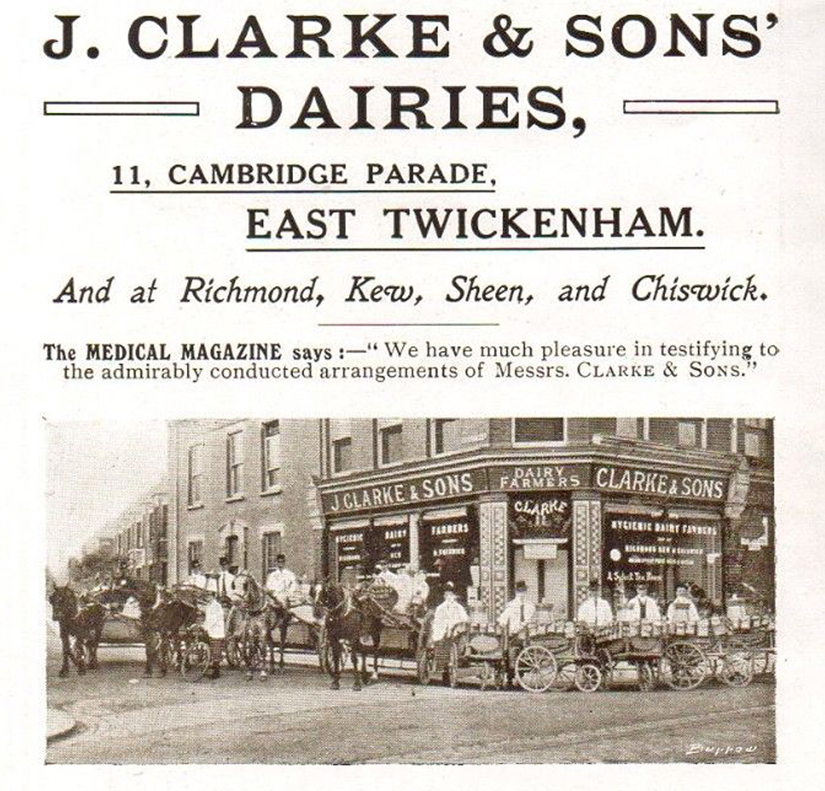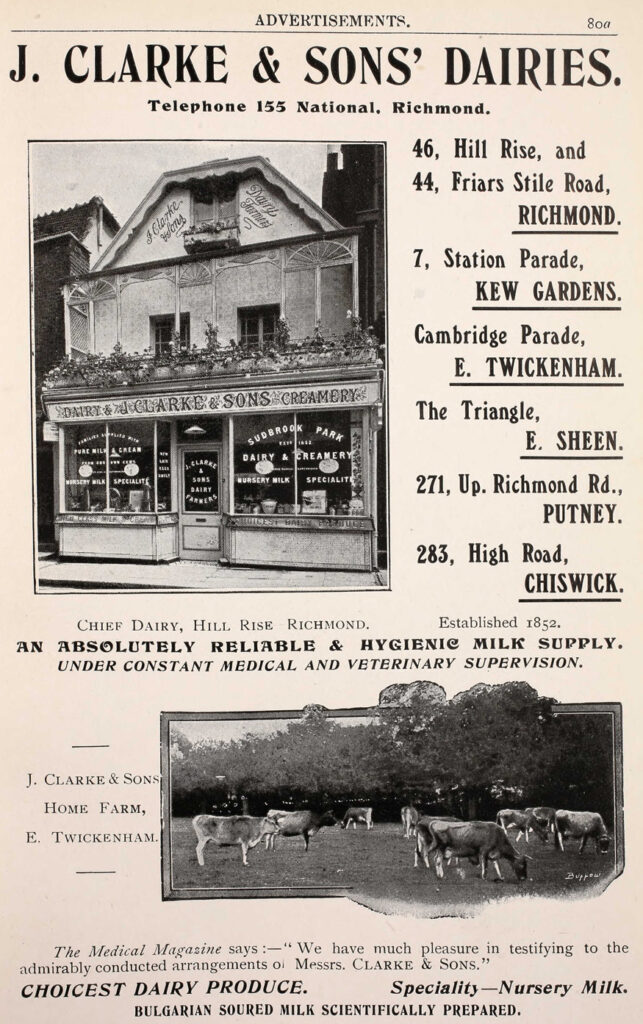 ---
1911 James Clarke Friars Stile Road Richmond

Josiah Clarke's eldest son James Clarke managed the other Richmond dairy shop at 44 Friars Stile Road. James had married Edth Hannah Tomlinson in 1906 and they ran this branch for a number of years.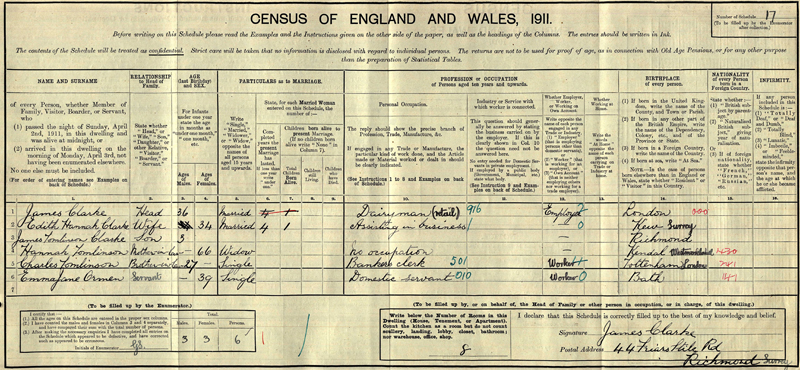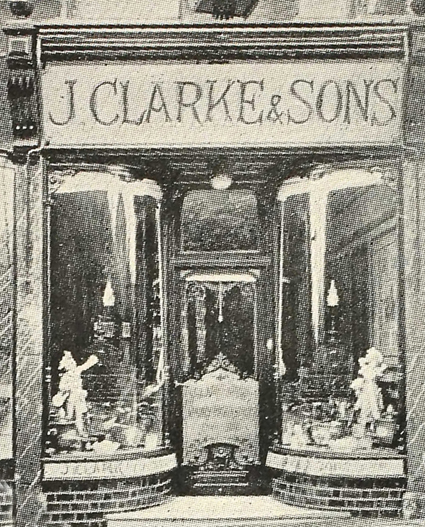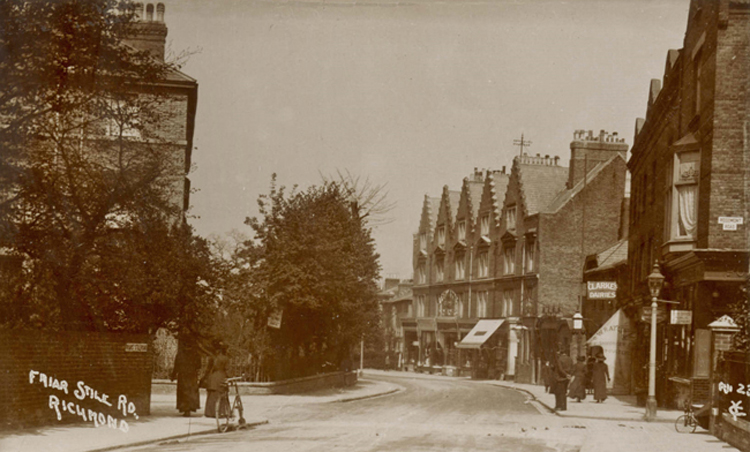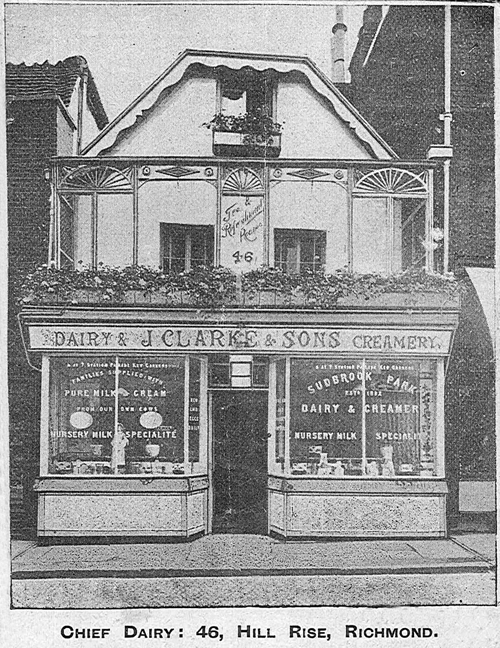 The two Telephone Directory extracts below date from 1906 and 1909. They show the expansion of the family business with an additional shop in Richmond at 44 Friars Stile Road, a shop in East Sheen and a Chiswick at 283 High Road. A further shop at 271 Upper Richmond Road had opened by 1909.


---
1913 Marriage Nelson Clarke

Josiah Clarke's son Nelson married July 23rd 1913 Kathleen Charlotte Lovell. He continued to manage the 380 Richmond Road East Twickenham branch but moved home to 97 East Sheen Ave Mortlake
---
271 Upper Richmond Road Sheen
The photos below show the shop present day which had been converted at a later date to a Thai Restaurant.
This branch was originally operated by Josiah Clarke's son Ernest Baldwin Clarke and his wife Mary.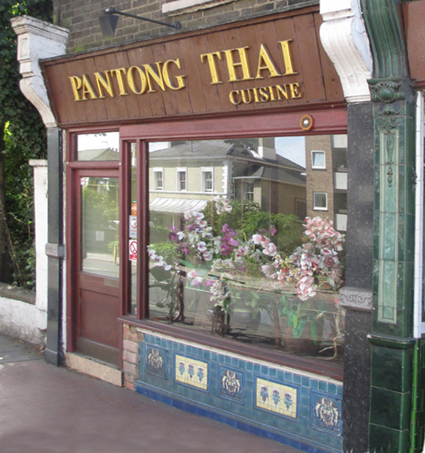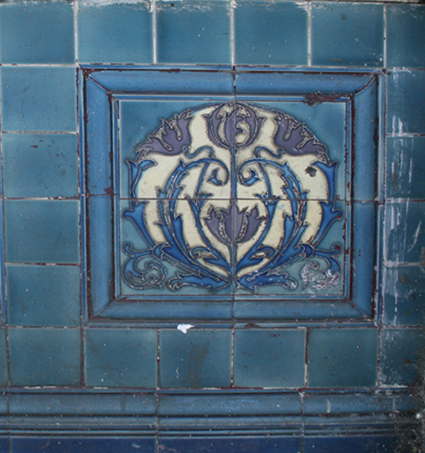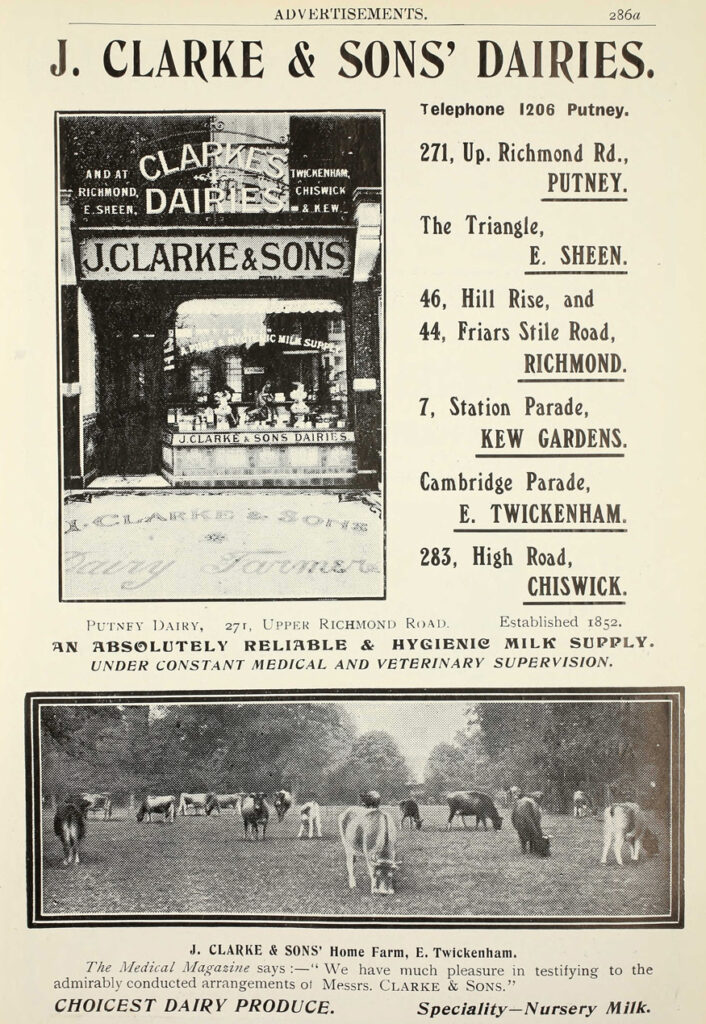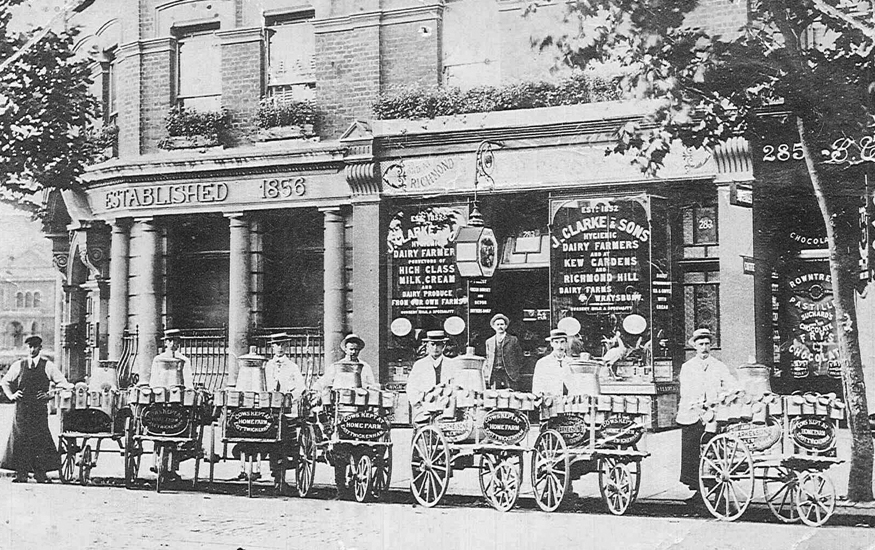 These historic photos show the Chiswick shop shortly after it opened. The Bank next door has since been expanded into Clarke's former shop.
The Chiswick shop was located at 329 High Road, which had been renumbered 283 High Road by 1907.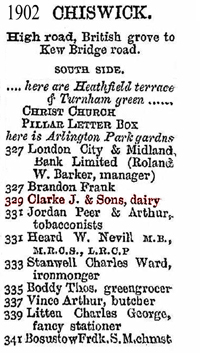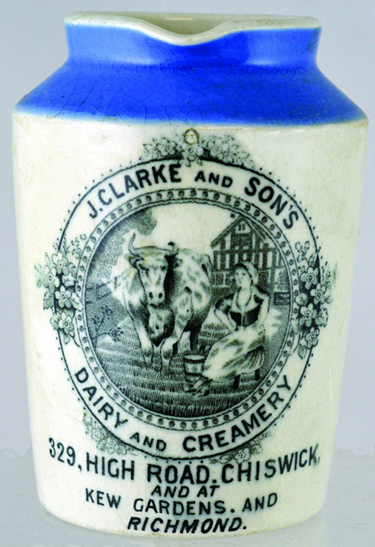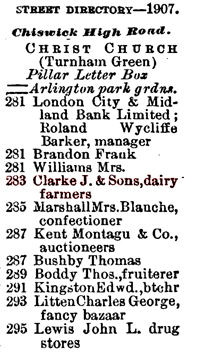 The Chiswick Branch was one of the first shops to open and was managed by Josiah's son Albert Edward Clarke.
The shop closed around 1914 and eventually became United Dairies.
Albert Clarke moved to Beacon Hill Dairy Hindhead Surrey.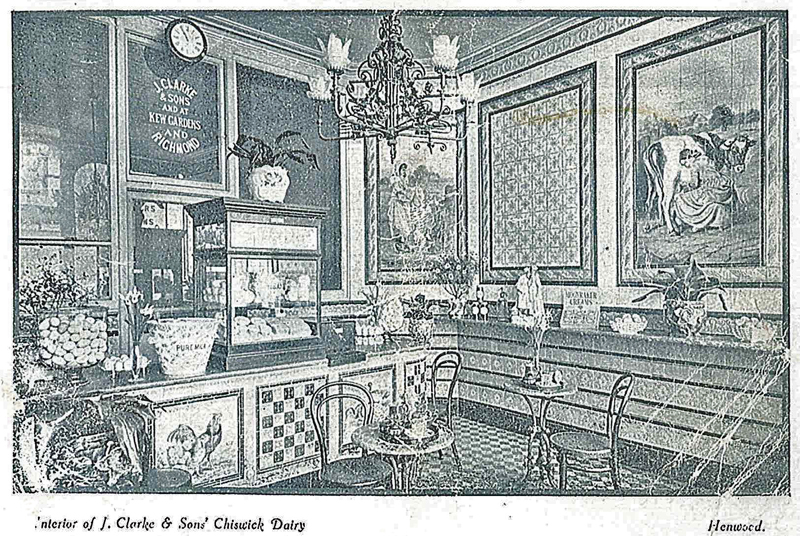 ---
46 Hill Rise becomes 84 Hill Rise Richmond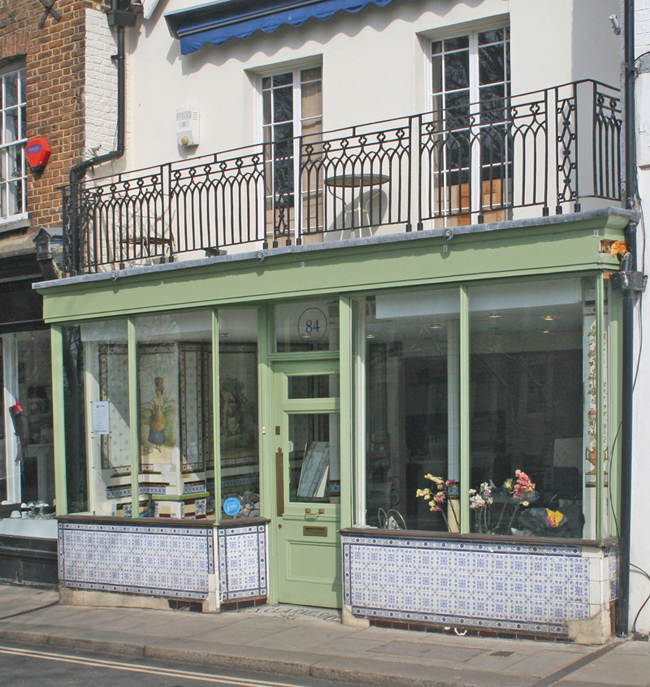 The original Richmond shop remained open throughout this period although its number in the road changed to 84.
Many of the original shops features remain present day as can be seen from these decorative tiles which were originally present in all J Clarke and Sons shops.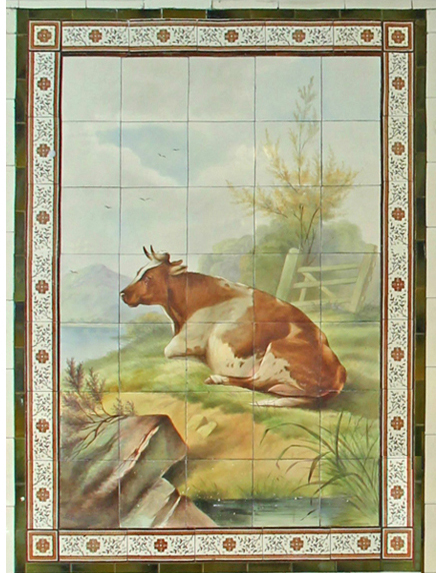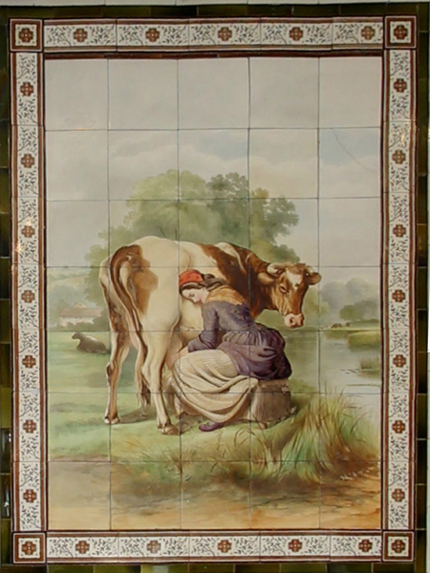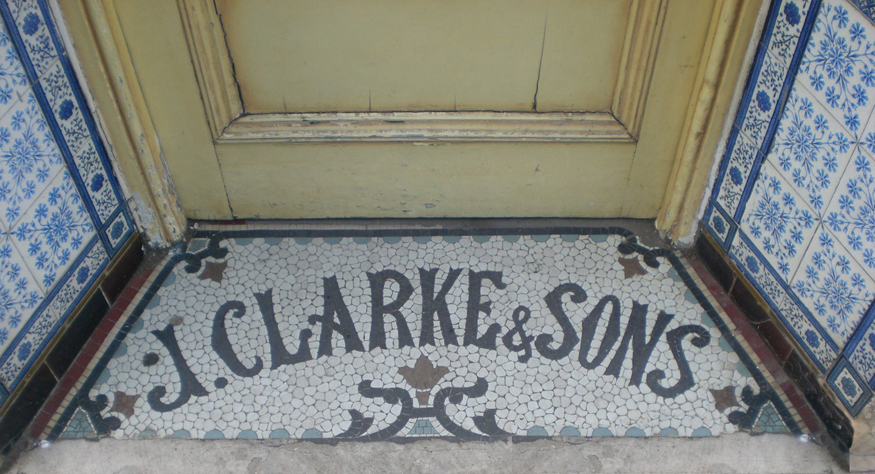 ---
1917 Death of Josiah Clarke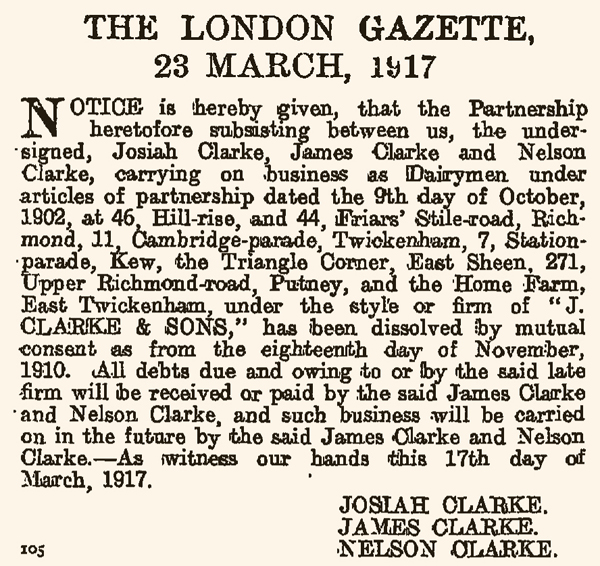 Josiah Clarke died 12th June 1917. The family run business was then amalgamated with their main rival F & H E Hornby.
The new company became Hornby Clarke Ltd.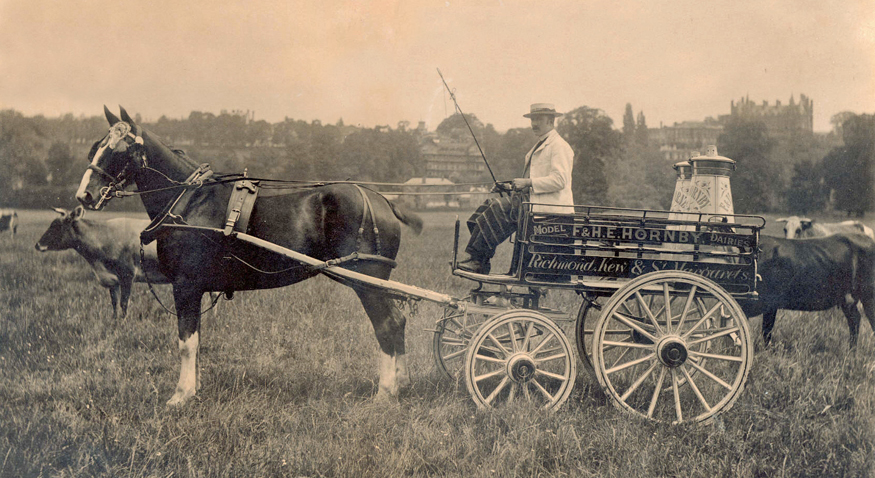 One of F & H E Hornby's milk delivery wagons they produced cream retailed in stoneware jars which are very collectable these days.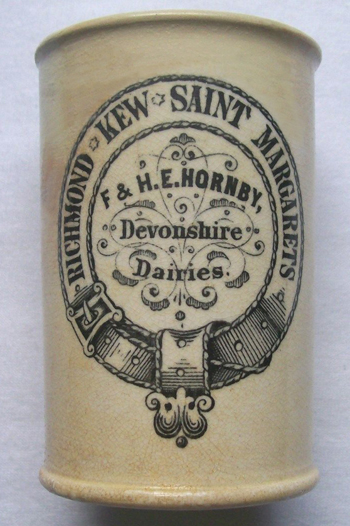 F & H E Hornby was formed by two brothers Frederick and Henry Epton Hornby who were both dairy farmers.The business in the Richmond area was established by Henry. Frederick managed a farm near Bournemouth.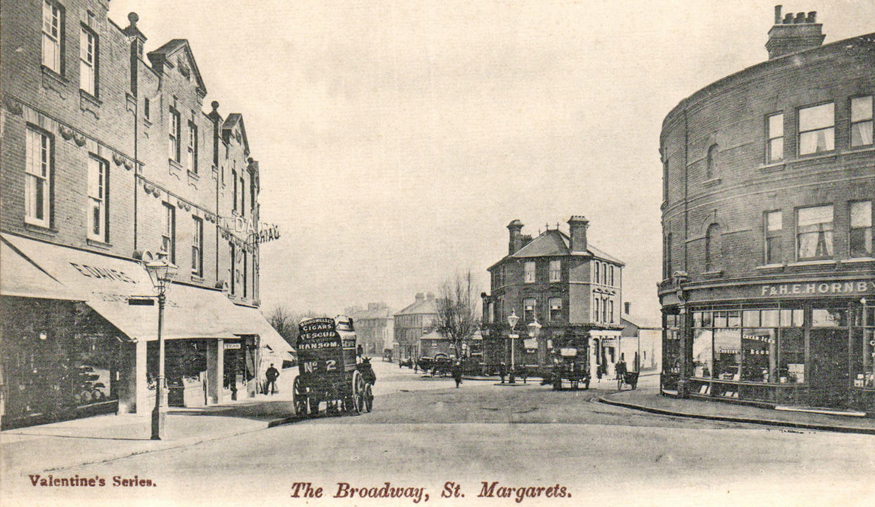 The photograph above shows Hornby's St Margarets Dairy shop in the Broadway which is now a general store. The dairy sign on the left was above the Crown Dairy shop.
The picture below shows the same view in the 1960's when the shop was managed by Hornby & Clarke Ltd.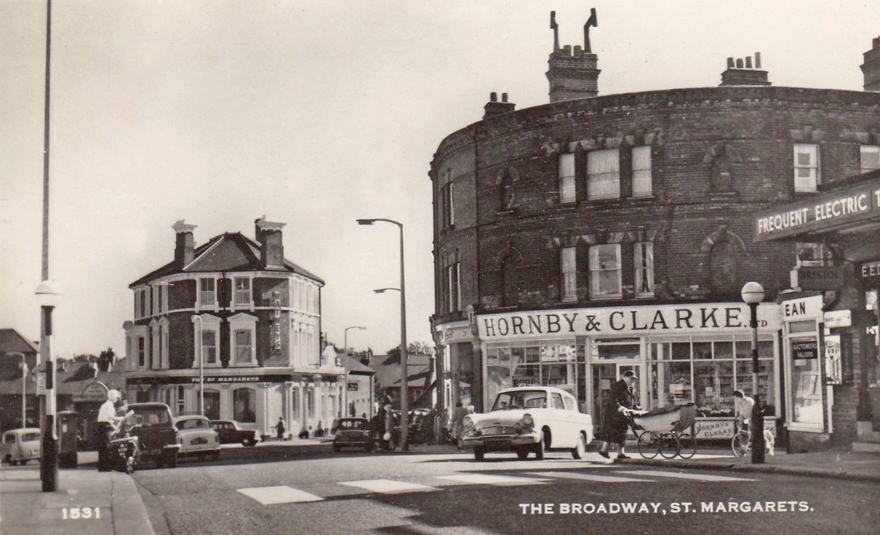 ---
Hornby & Clarke The Quadrant Richmond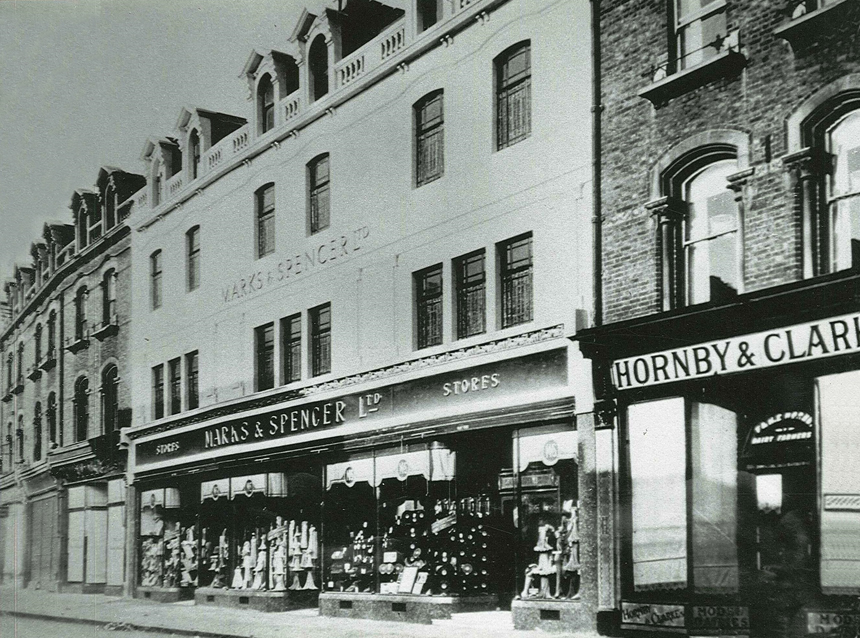 The photo above shows the old F & H E Hornby head office shop in Richmond next door to Marks & Spencers shop which has subsequently also closed.
A 1940's period letterhead is shown below.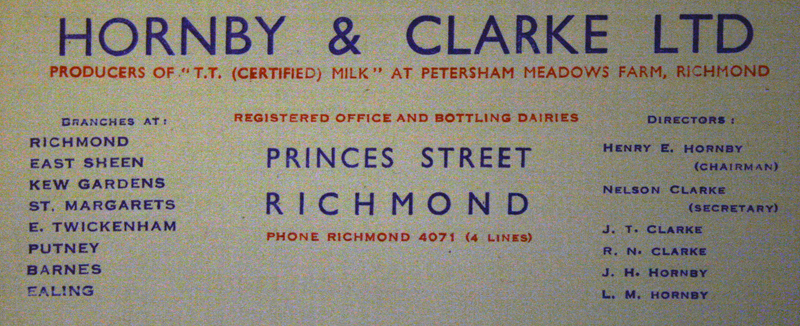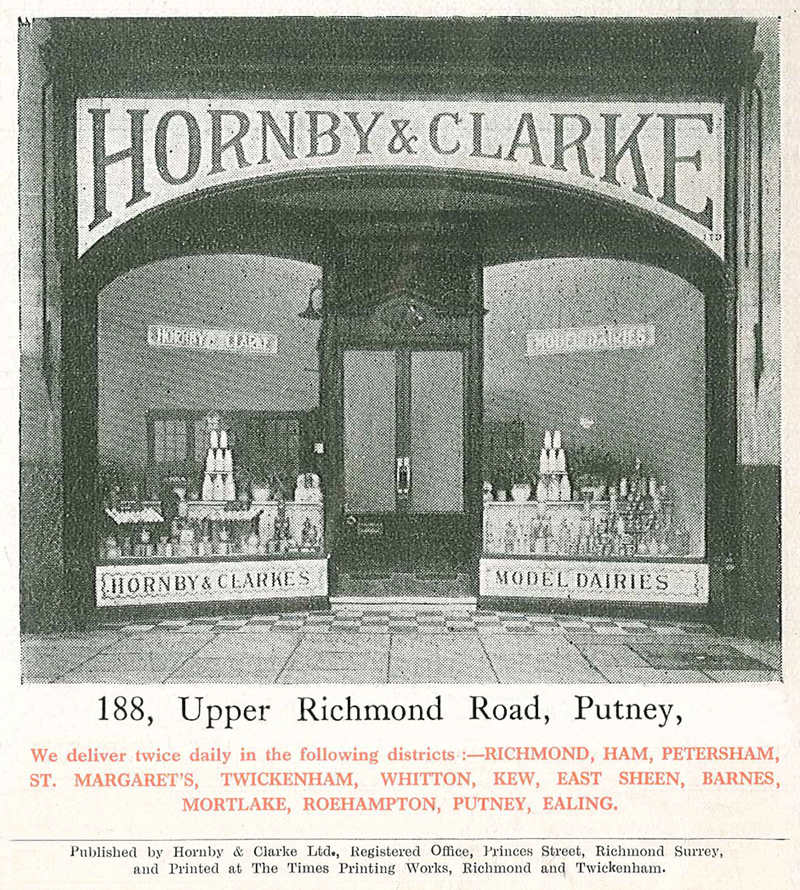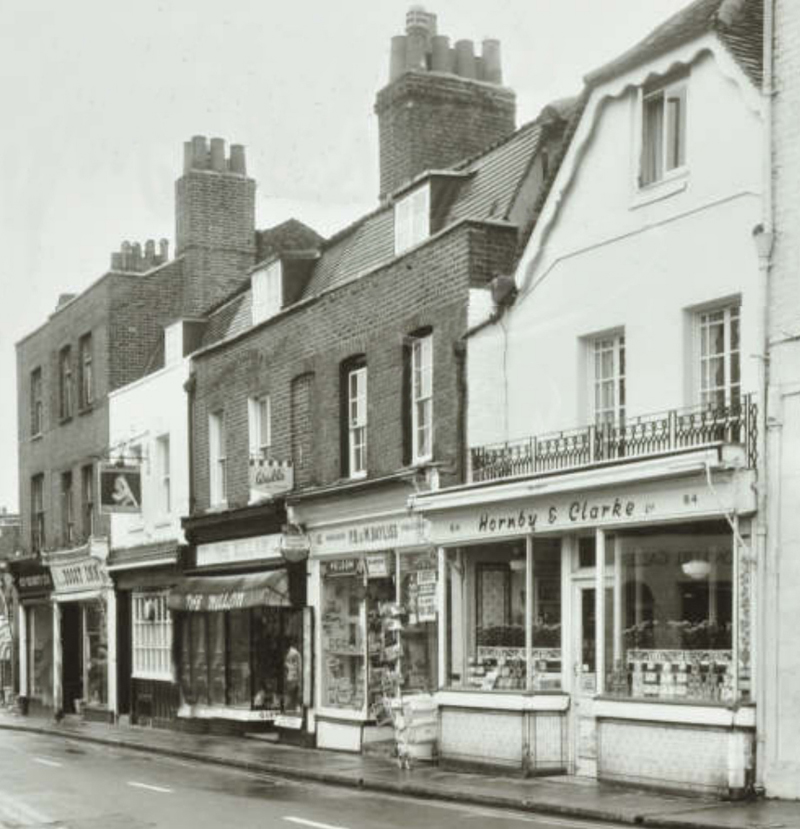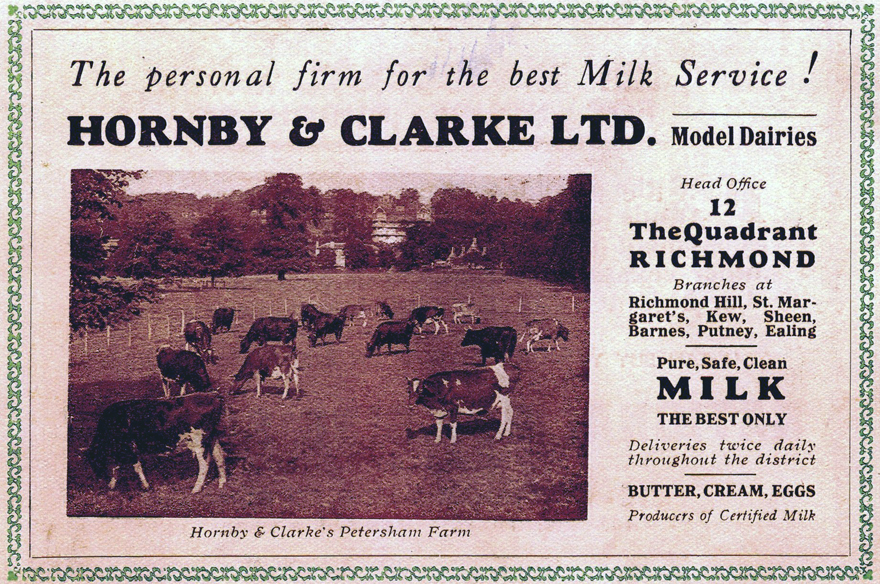 ---
1960 Hornby Clarke taken over by Express Dairies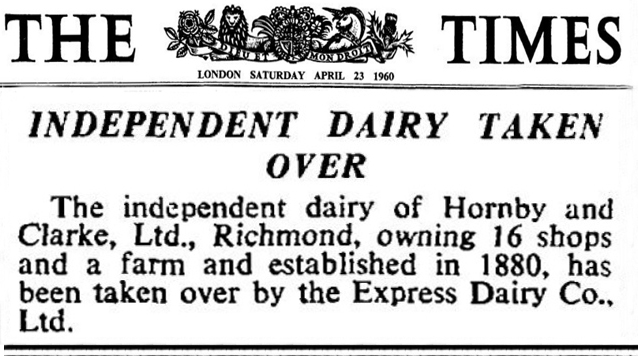 Finally two archive photos of J Clarke's dairy shop at Kew.
The first was taken shortly after it opened. The other is from the 1950's when it operated under the banner of Hornby and Clarke.
The shop had now become a small convenience store.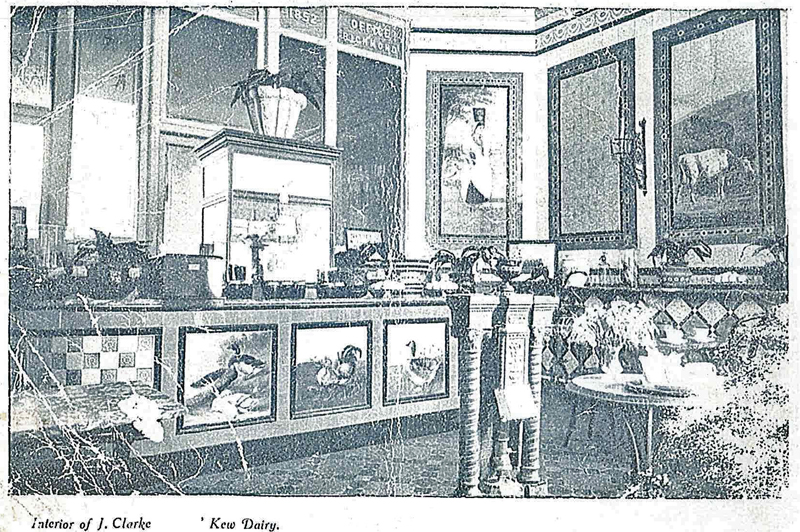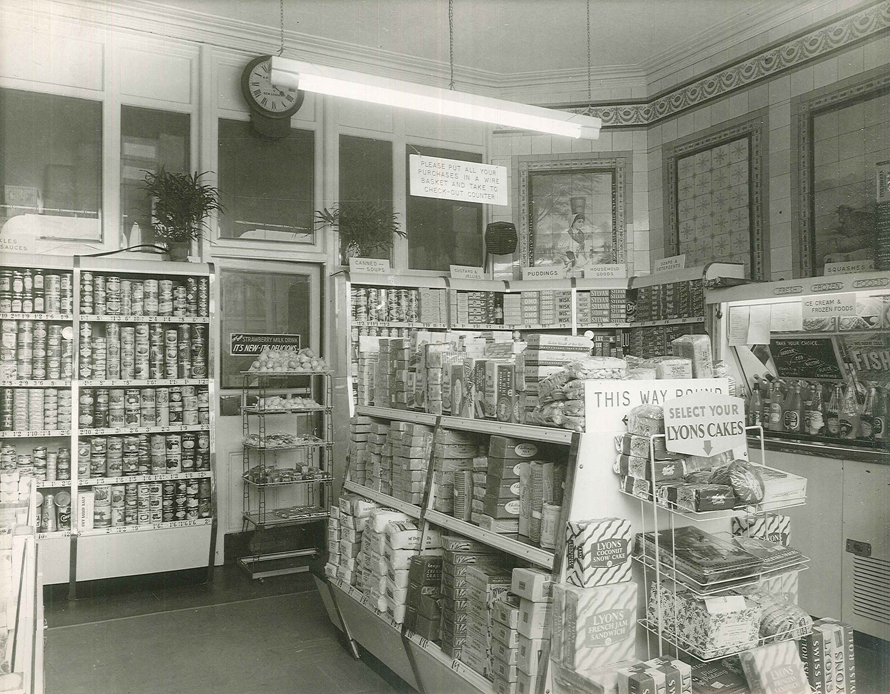 ---