1867 Birth Harry Bentinck Budd
Edward and Elizabeth's second son was born in 1867 and named Harry Bentinck Budd.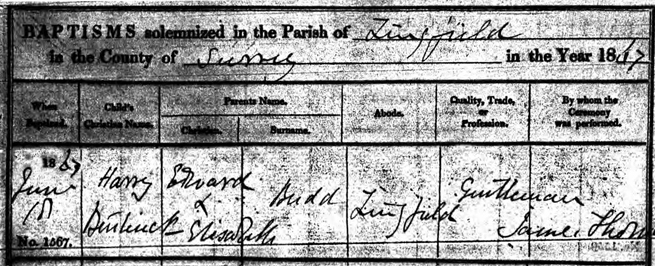 ---
1891 Census Harry B Budd
The census below shows Harry Bentinck Budd aged 23 living at East Park House near Horne Surrey. He had inherited a large percentage of his fathers wealth following his death in 1890.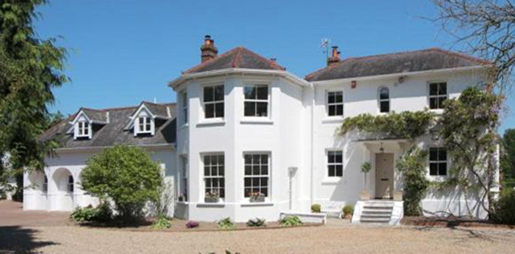 ---
1896 Marriage Harry Bentick Budd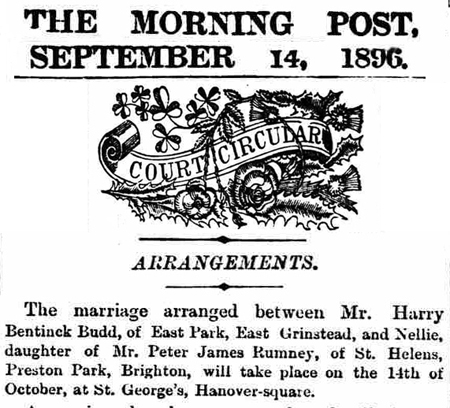 Harry Bentinck Budd married Nellie Rumney in October 1896.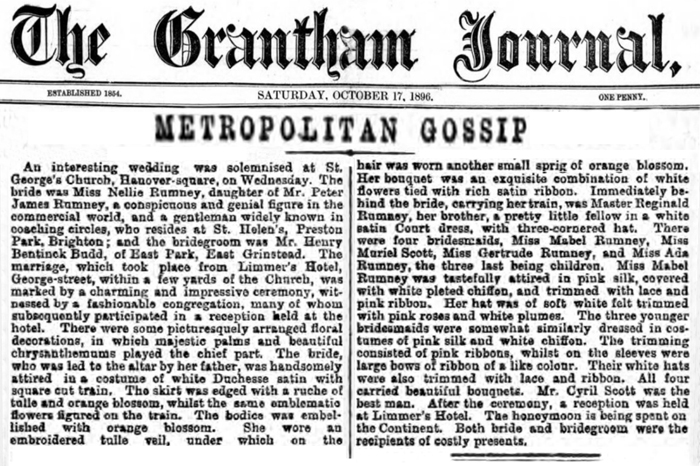 ---
Bentinck Budd's Celladema
Following his interest in breeding and racing horses Harry Bent Budd went into business producing an embrocation initially for horses and later for human use.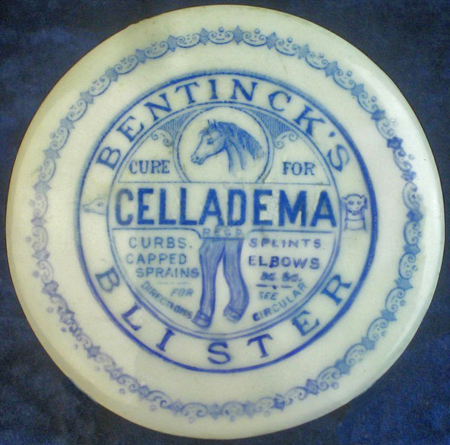 ---
1897 Birth Charles Harry Bentinck Budd

Harry Bentinck Budd's first child Charles Harry Bentinck Budd was born in 1897.

---
1897 New Years Eve East Park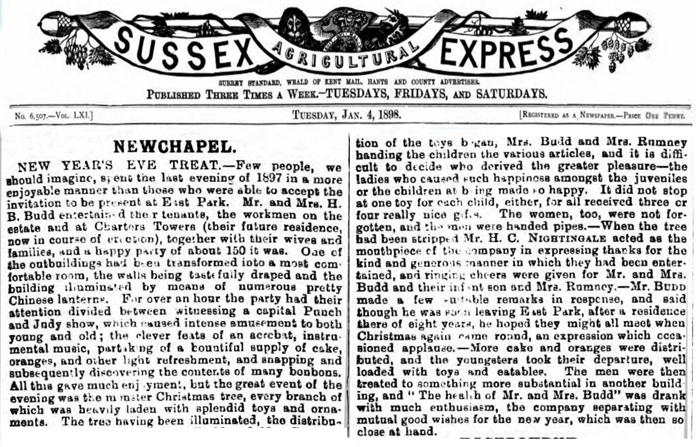 Harry Bentinck Budd moved in early 1898 to his new home named Charters Towers just south of his father's old house The Grange.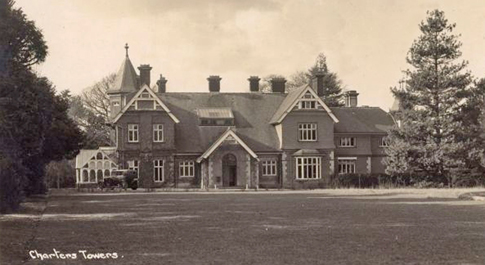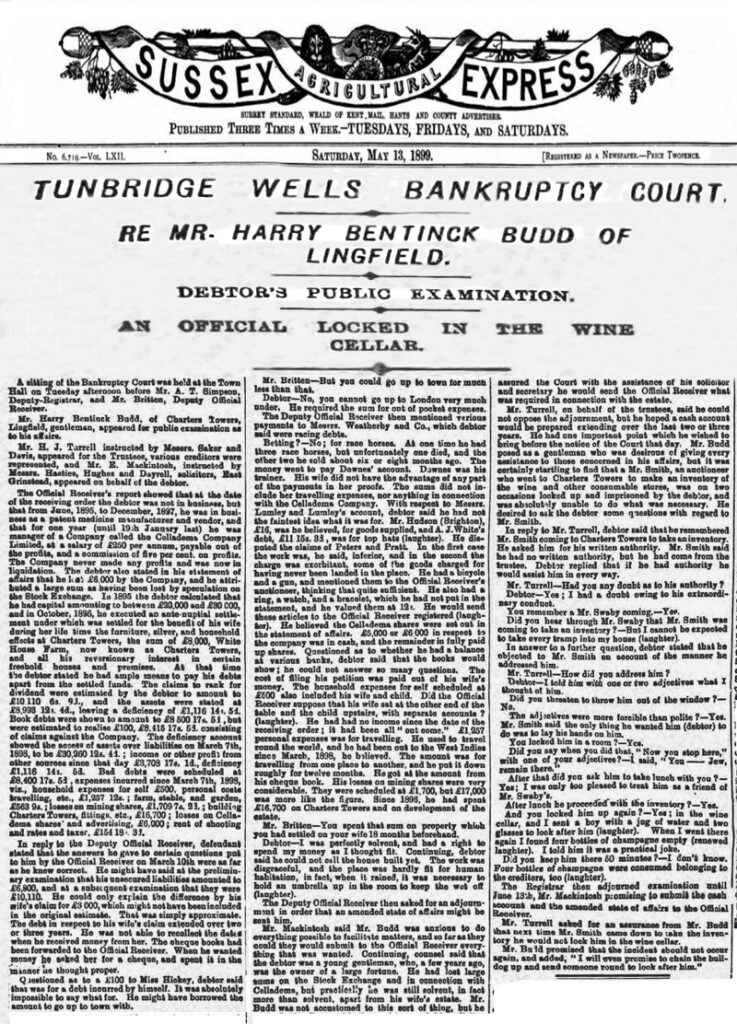 ---
1901 census Harry & Nellie Budd

Harry Bentinck Budd and his wife Nellie at the time of the 1901 census had moved to nearby Whitehall Farm which they renamed Cromwell Hall. Living with them are their son Charles and daughter Nellie Mabel Budd who was born in 1900.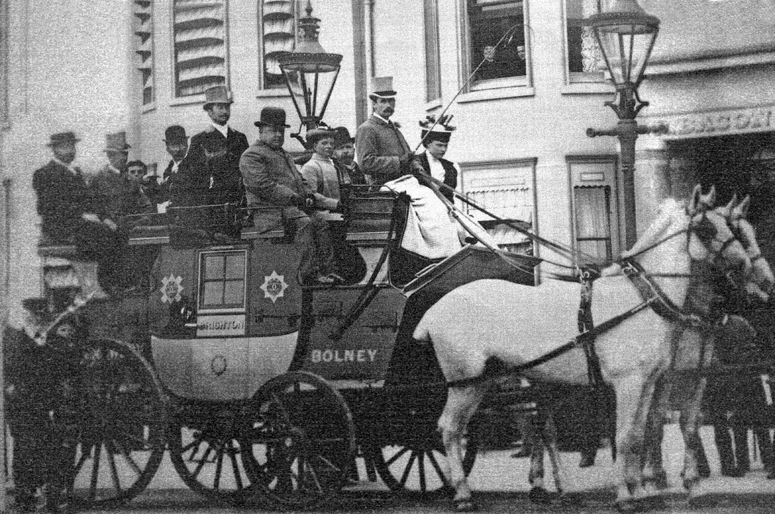 ---
1902 Death Gerald Bentinck Budd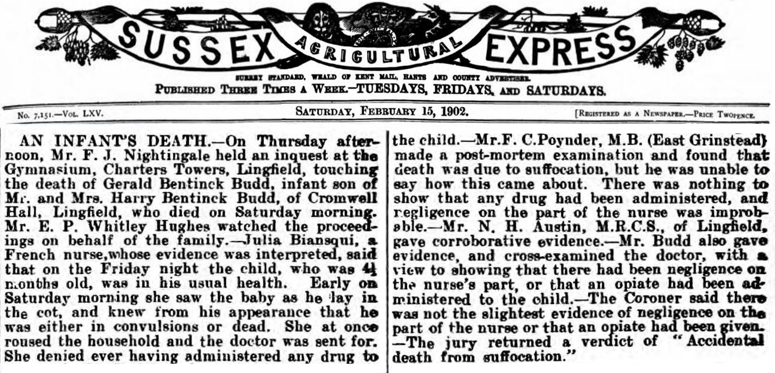 Harry Bentinck Budd had a third child but they died in infancy in 1902.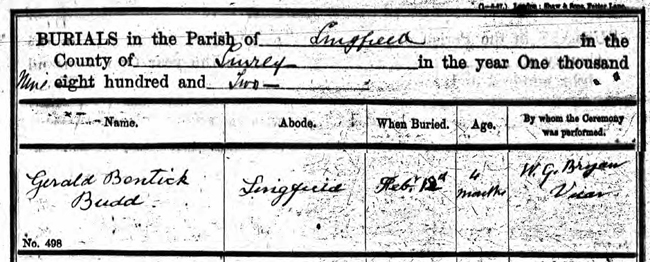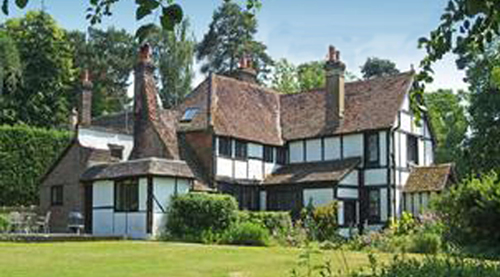 The map below shows the three properties that were occupied by Edward Budd and his son Harry Bentinck Budd in the Lingfield area.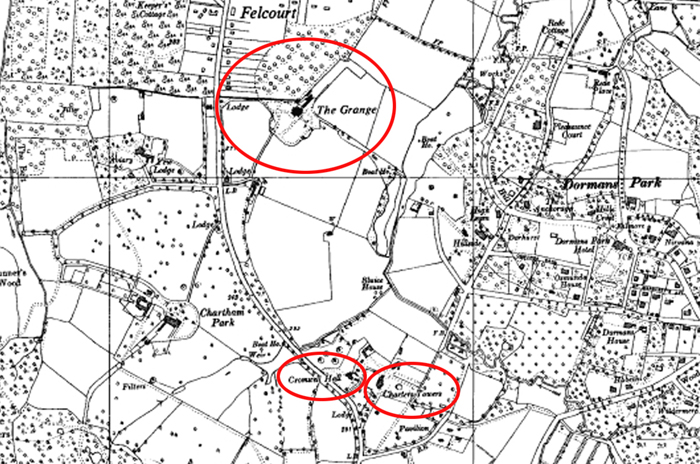 ---
1910 Marriage Separation
Harry & Nellie Budd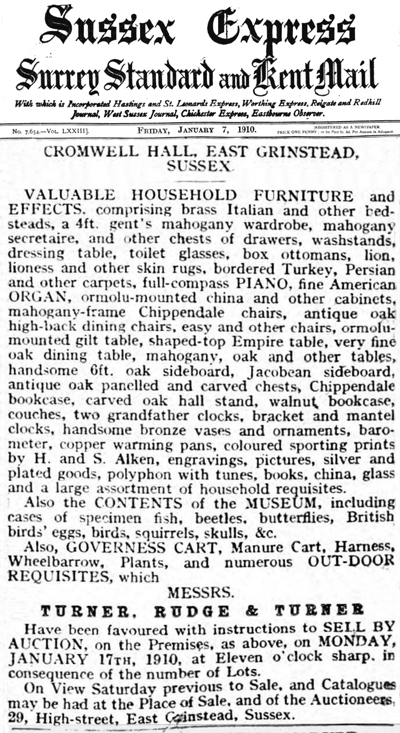 Harry Bentinck Budd appears to have separated from his wife Nellie around 1910 when the contents of Cromwell Hall were auctioned.
---
1911 census Nellie (Ellen) Budd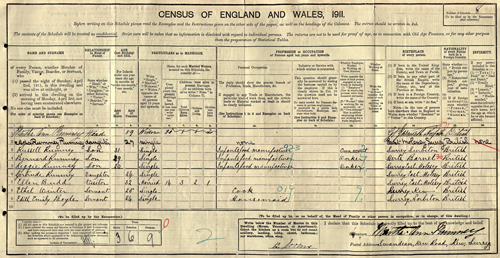 Harry Bentinck Budd's wife Nellie is listed as a visiter at her Mother's house in Kew. Her two children were at boarding school. Her husband Harry Bentinck Budd is not shown on the UK census but is recorded as crossing the border between Canada and USA in april 1911. Interestingly he is shown travelling with his wife and daughter, but this was not Nellie but Ragna a 28year old Scandanavian lady and her daughter Sonja aged 1 year old.
It would appear Harry Bentinck Budd had separated from Nellie and was now living with Ragna. Sonja was born in 1910 in France.

Harry Bentinck Budd and Ragna are listed on the 1919 electoral register for Radley Berkshire.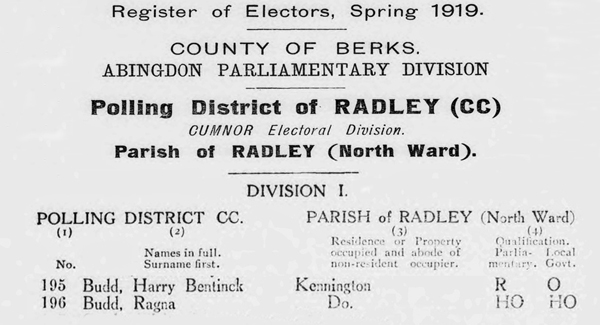 ---
1915 Nellie Bentinck Budd

Nellie Bentinck Budd is listed as living in Morlake South West London in 1915.
1920 Death of Harry Bentinck Budd
Harry Bentinck Budd died in June 1920. One of the executors of the will was Ragna Heyerdahl, the woman which had been living with since parting with Nellie. It is not known whether he ever divorced Nellie but it doesn't appear he married Ragna although she used the surname of Budd.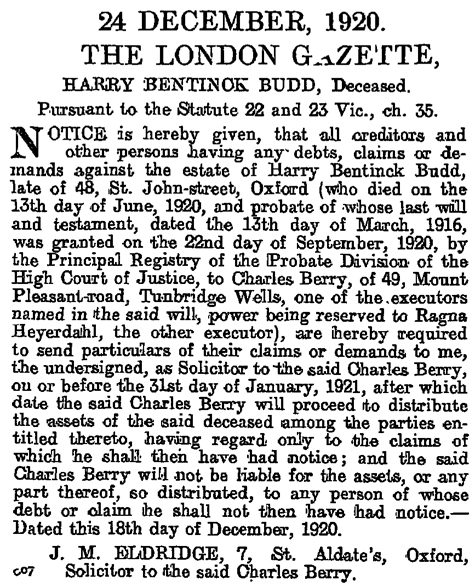 1921 Canadian census Ragna Budd
Ragna Budd is recorded on the 1921 Canadian census as Ragna Tucker. She had married Oliver Tucker following the death of Harry. Interestingly Ragna is shown as having a second daughter named Anita who was born in 1913 in England to Harry and Ragna.

---
1921 Marriage Charles Harry Bentinck Budd
Harry and Nellie's son Charles married Marie Speight in 1921. They appear to have divorced by 1927 as he had a child named Edward with a lady named Louise Roosmale Nepveu. He married Louise in 1928. Charles H B Budd was politically active during this period and further details of his career can be found on numerous internet websites.
His third marriage in 1944 was to Enid G Baker. They had three children, Anna born 1945 Richard born 1948 and Jane born 1952. The last two children were born in Ireland. Charles H B Budd had returned to England by 1960 and was living at

Field House Windmill Hill Herstmonceux Sussex where he died in 196. His first wife Marie lived until 1978 when she died in Queensland Australia, his second wife Louise Renee Bentinck Budd lived in Thames Ditton Surrey until her death aged 82 in 1988. His third wife Gertrude Enid Bentinck Budd died in Surrey in 1996.
---
1924 Marriage Nellie Mabel Budd
Harry Bentinck Budd's daughter Nellie Mabel married Walter James Harold Howell ln 1924. Her Mother Nellie Bentinck Budd by this time had married William Bertram Freeberne in 1922 following her husband's death.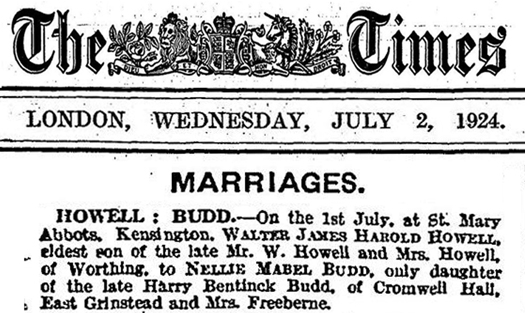 ---
1926 Nellie Bentinck Freeberne Emigrates
Nellie and her husband William and daughter Joyce Victoria emigrated to Australia in 1926.

---
1953 Death of Nellie Bentinck Freeberne
Nellie died in March 1953 aged 74 her husband William died in August 1953.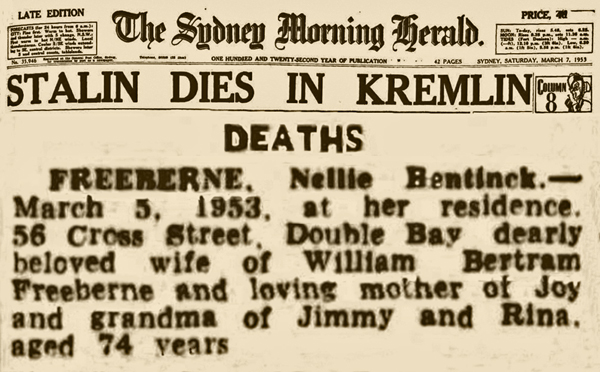 ---