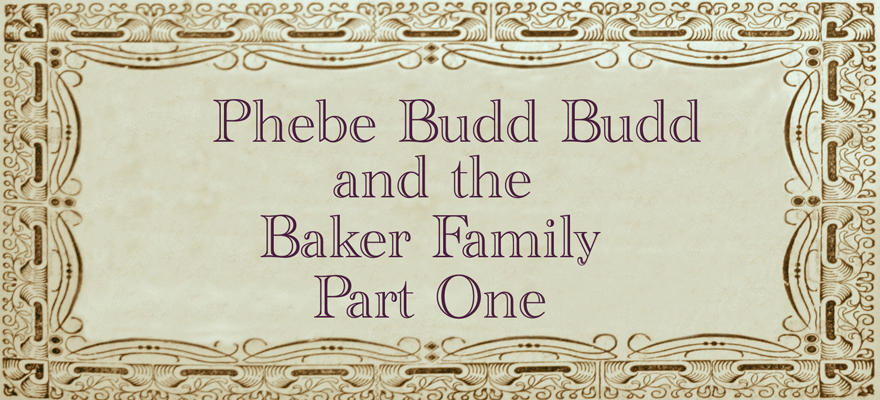 1891 Death of Phebe Budd Budd
William Budd's daughter Phebe died 18th April 1890 of Phthisis, a form of consumption or tuberculosis. This had been certified by her doctor over the previous two year period.

Following Phebe's death her estate was administered for probate under the terms of her Will which had been written 8th December 1888. Her father William Budd had died 30th November 1888 only days before Phebe wrote her final Will and testament.
As Phebe was unmarried, she and her sister Charlotte were the only living daughters of William Budd as all his other children had died by this time.
William Budd's Will had divided his estate between his two daughter's Phebe and Charlotte Dalzell. There was also a provision for his wife Sarah Susannah Budd.
The Twickenham Park Estate was therefore split between the two daughters. Phebe also acquired the former family home Lambrook at Winkfield Berks which was being leased to a private school. She also acquired a number of properties in Brighton which were originally owned by her grandfather Henry Budd.

With Phebe being unmarried and having no dependants she made a curious decision of who to leave her substantial estate to. Rather than leave everything to her elderly mother and her only sister who were both still living on the Twickenham Park Estate, Phebe chose to leave everything to a non family member, a man named Frederick John Baker who had been in service for many years with her father.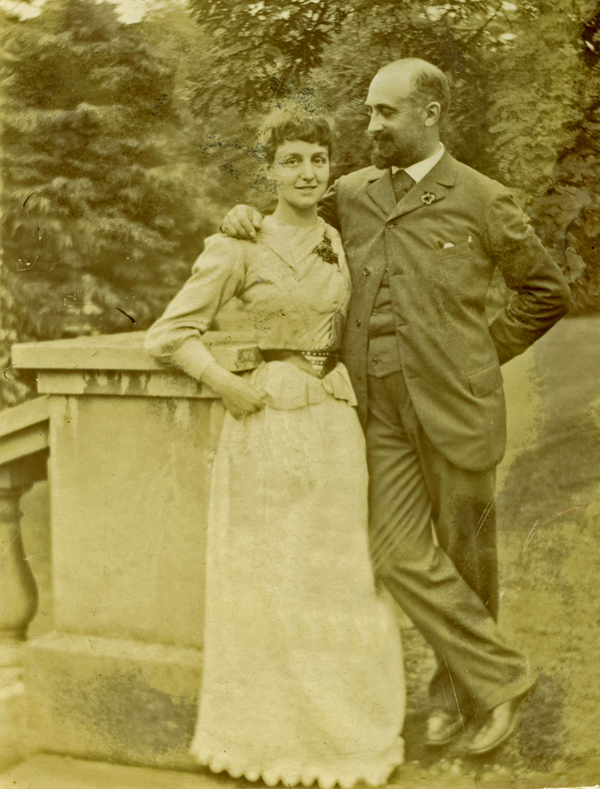 The condition in Phebe's Will was that the Baker family must adopt the surname of Budd-Budd in place of their own surname Baker.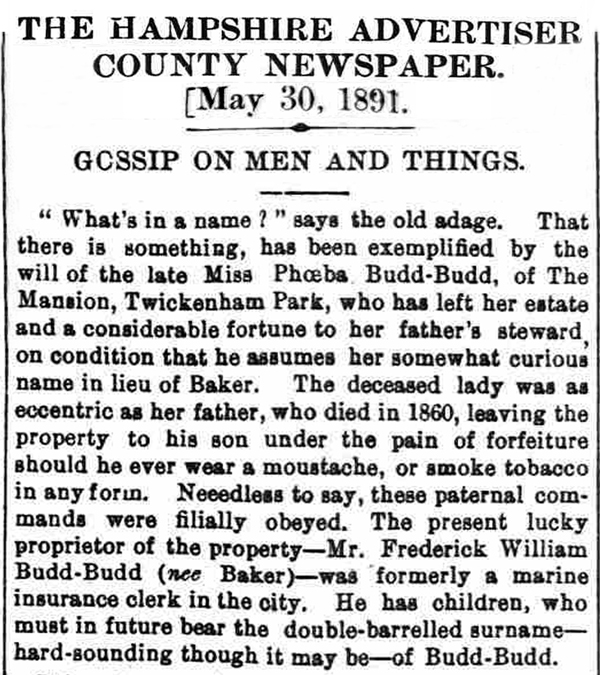 The above newspaper article from 1891 explains this curious situation. It should be noted that there are several mistakes. Firstly Phoeba should read Phebe, secondly her father didn't die in 1860 – that was her grand-father Henry Budd who died in 1862. The smoking of tobacco rule in his Will is incorrect and the Frederick William Baker quoted who was a marine insurance clerk was the son of Frederick John Baker who was the main beneficiary. Apart from that an acurate account!
To understand how Frederick John Baker became the Residuary Legatee for life of Phebe's estate we have traced his family back to the 1860's which are detailed below.
---
1864 Marriage of Frederick John Baker

Frederick John Baker was born in 1844 at Hampton Wick Middlesex. He was the son of William and Elizabeth Baker, a gardener by profession.
Frederick married Ann Elizabeth Hindes 3rd January 1864. The certificate above shows he is a Gardener resident in Twickenham.
Frederick and Ann's first child Louisa Adelaide Baker was born 8th May 1864. The families address is shown as Turks Lane and Frederick's occupation is listed as Gardener Domestic Servant which implies he was employed by the Budd's of Twickenham Park.

Their next child Marion Eva Baker was born 18th November 1866. The family are now living at Twickenham Park.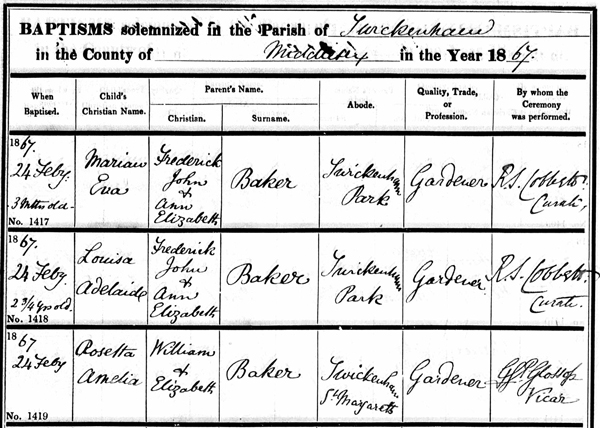 May Claire Baker was born 4th June 1868.

The photo below is of one of ths Baker children. The photographer William Sneyd was only resident at Windsor Villa London Road Twickenham from roughly 1866 to 1870 when he moved his studio to Chiswick.
As the child below was photographed between these dates she must be one of the above Baker children.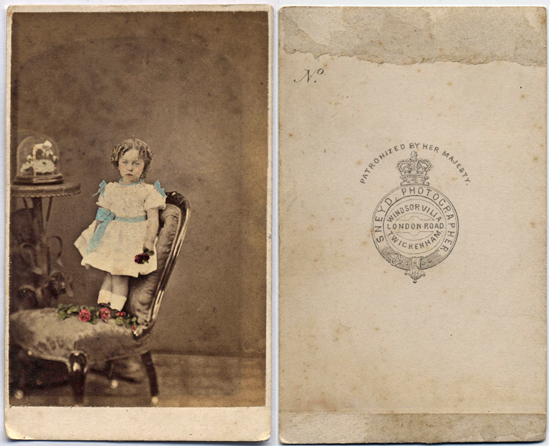 The Baker's next child Frederick William was born 7th May 1870. The birth certificate below shows he was born at The Stables Twickenham Pk.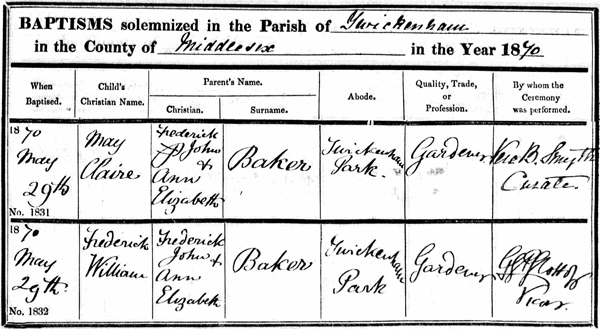 ---
1871 Census Baker family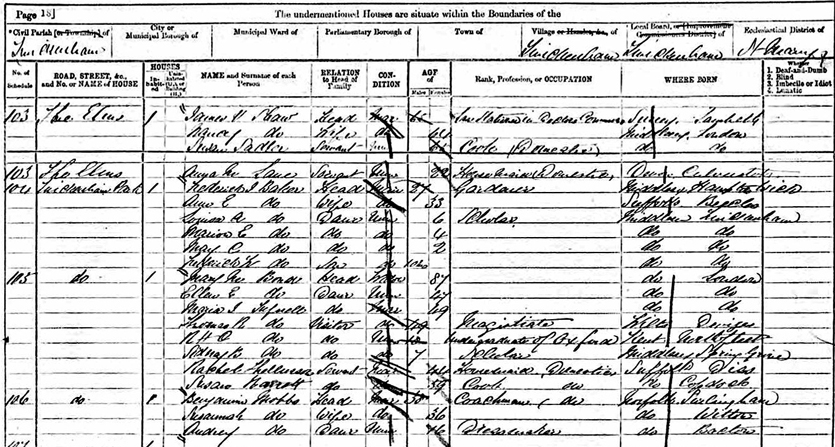 The Baker family were living in a house in Twickenham Park named The Elms. This house is now named Gowrie House and must not be confused with the current riverside property called The Elms.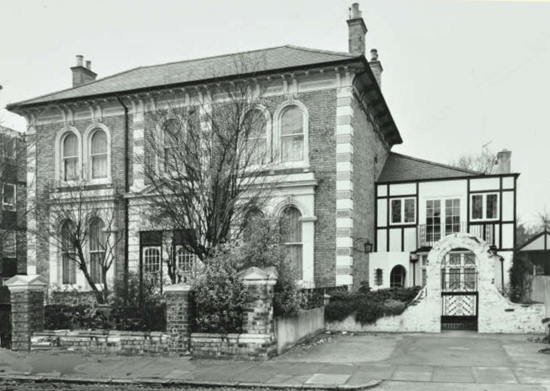 The Bakers had two further children who were born at Twickenham Park. Above is the birth certificate for Edward John Baker who was born 18th February 1872. Their next child Edith Ann Baker was born 2nd September 1873. The family were now living in Victoria Lodge at the entrance to the estate.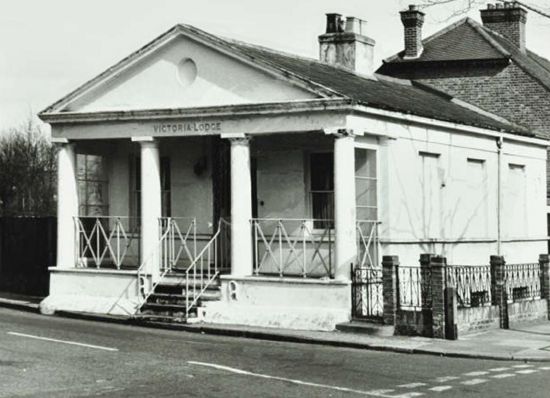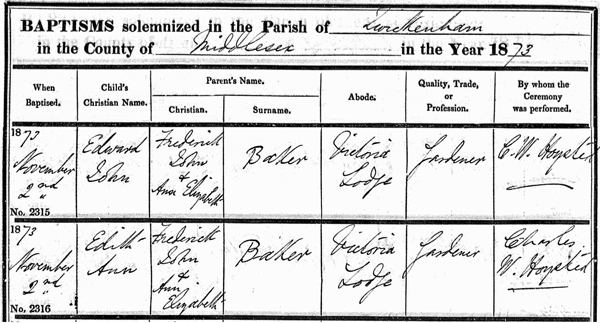 ---
Baker family move to Sussex
By 1879 most of the Baker family relocated to William Budd's newly acquired farm estate near East Grinstead. Originally named Ricelands Farm it was renamed Restland around this time.
The family's next and last child Adela Ivy Baker was born 5th January 1879 in nearby Forest Row.

---
1881 Census Baker family

The 1881 census shows the Baker family at two locations. Above Frederick John Baker farm baliff is shown with his son Edward. Below his wife Ann and her children Edith and Adela were living nearby in Horsted Lane.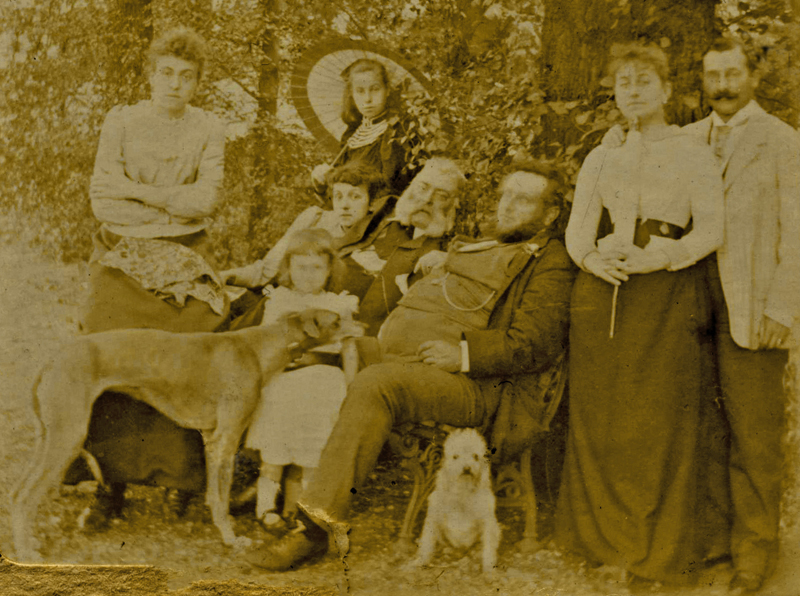 The above photograph is untitled but is believed to have been taken in the grounds of Twickenham Park Mansion. We estimate the date to be the mid 1880's. The only confirmed person that we can name is the large seated gentleman directly behind the small white dog.
He is Frederick John Baker, former Gardener, domestic servant and and eventually farm baliff of Restlands.
As for the other people pictured it would be nice to believe that the whiskered gentleman is infact William Budd, the chap on the right is Major Dalzell with his wife Charlotte (Budd).
The woman on the extreme left bears a striking resemblance to who we believe is Charlotte.
So this would mean that this lady is Phebe Budd Budd.
The three younger children would be Bakers.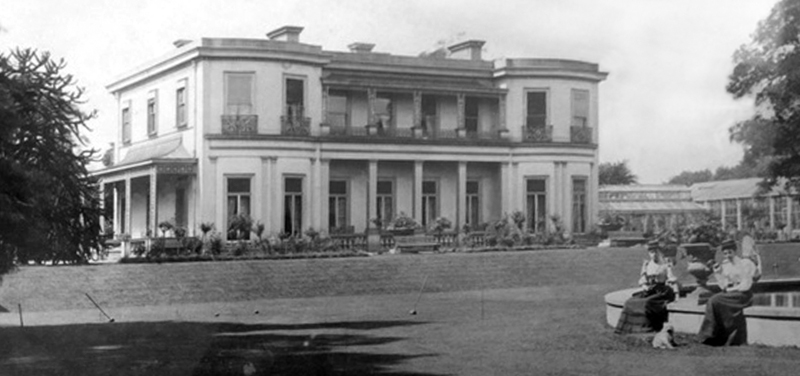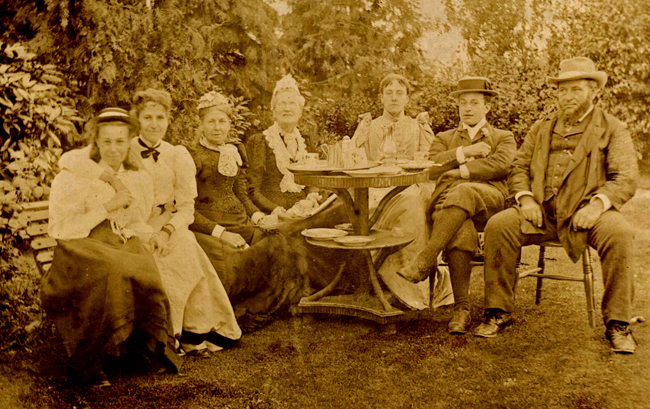 The above photo shows members of the Budd Budd family probably at Restlands in the late 1880's.
Frederick John Budd Budd is seated extreme right, we believe his wife Ann is one of the ladies in the centre with some of their children also present.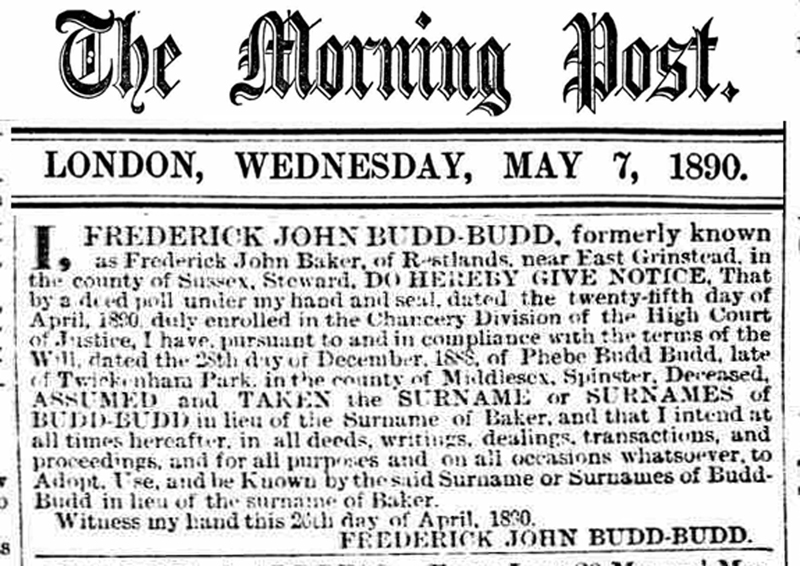 Following the death of Phebe Budd Budd the Baker family adopted the surname Budd-Budd in compliance with the probate directive. Each family member had to publish in a national newspaper that they were changing their name by deed poll.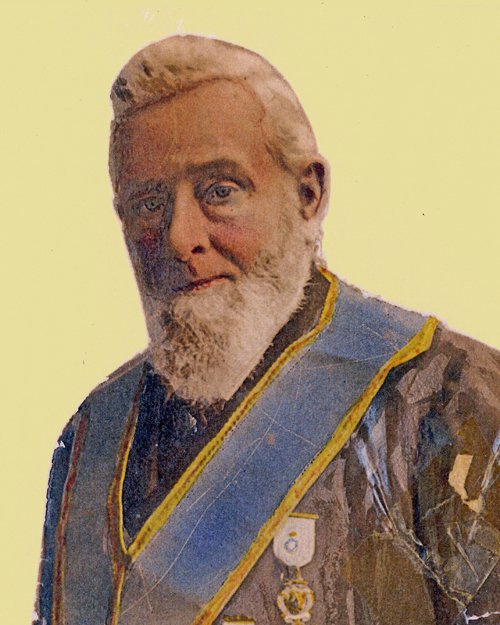 Frederick John Baker became Frederick John Budd-Budd from April 1890. He was active member of the local East Grinstead Freemasons society and is pictured above in his full regalia.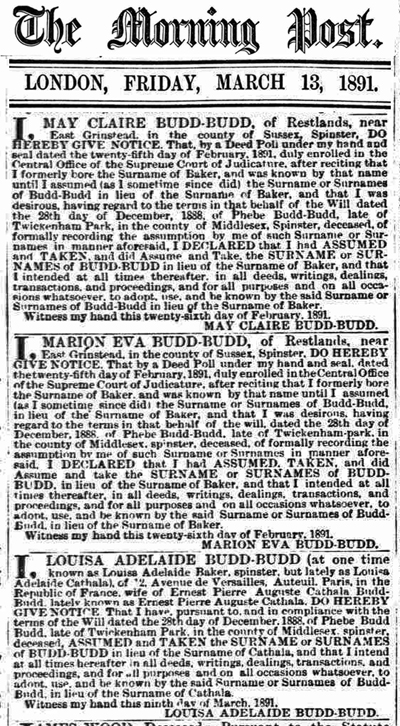 Various newspaper advertisements
showing members of the Baker family announcing
their surname change to Budd Budd.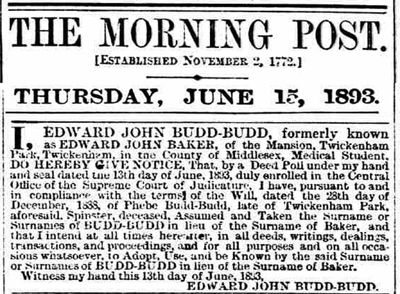 ---