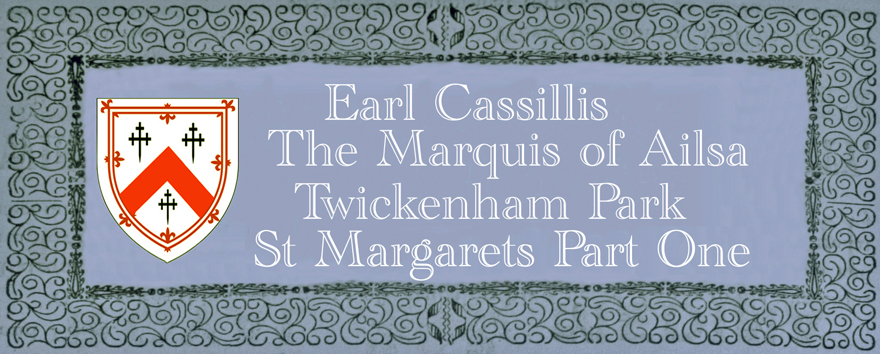 Marquis of Ailsa – Part 1
This page details the developement of the northern half of Twickenham Park which is now commonly known as St Margarets. This area is presently bordered by Isleworth to the north and the A316 Chertsey Road by Twickenham Bridge.
The developement centered principally on 3 riverbank properties which had been built during the 18th century. These houses came to be named after their owners, the engraving below by Boydell dates from 1770 and shows on the right Railshead House which later became Seaton House, and then Gordon House which is it's present name. Next door is what became known as Lacy House, and on the left is the property eventually to be known as St Margarets House.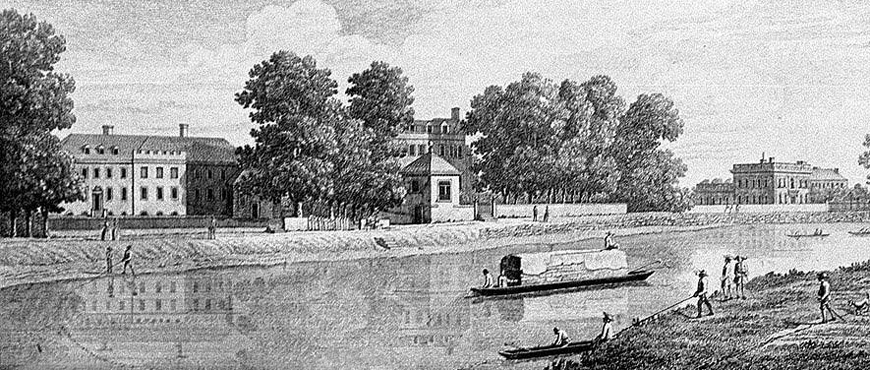 The picture below dates from about 1785 and shows the property then known as Counsellor Baldwin's. It later became St Margaret's House when it was rebuilt.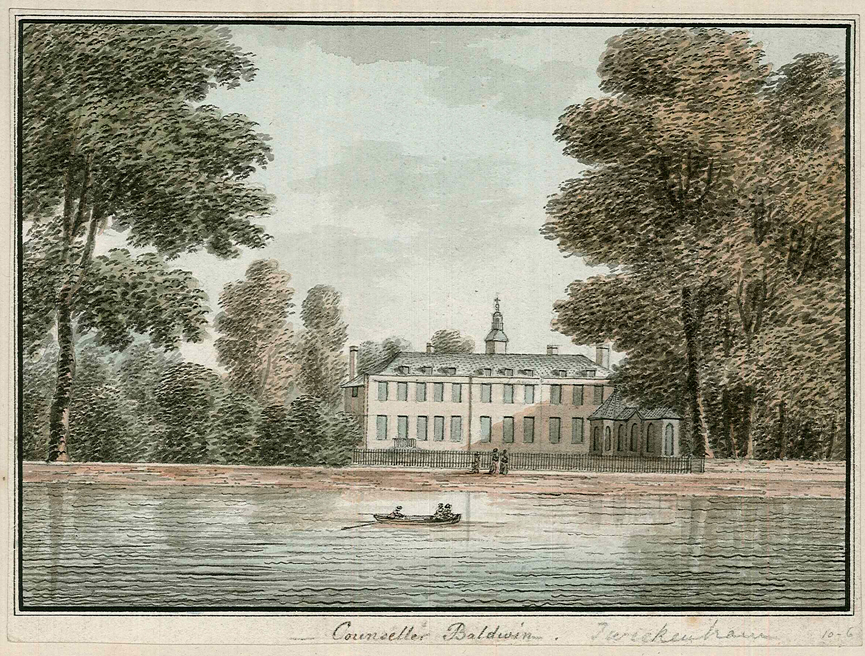 The next house became known as Lacy House and passed from its one time owner Edward Walpole (brother of Horace) to his widowed daughter Laura Keppel who lived there until her death in 1813.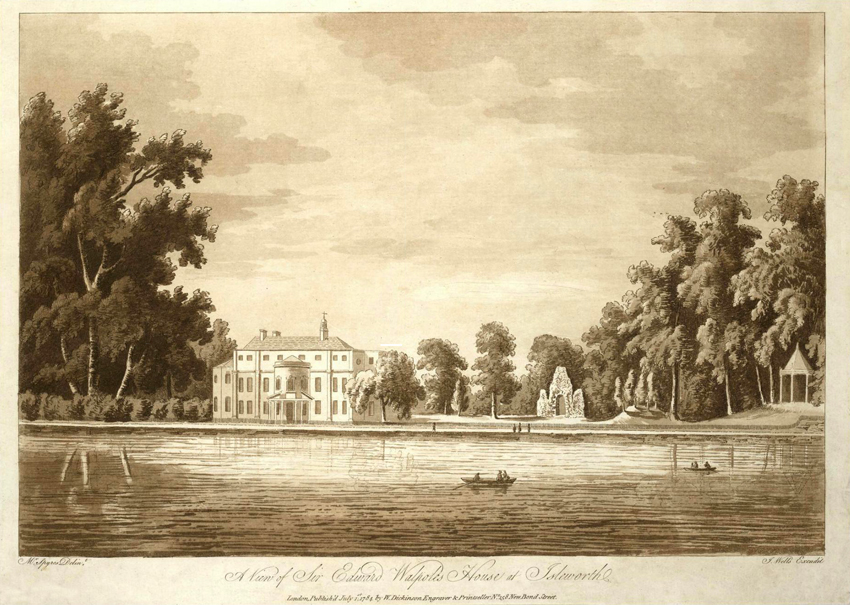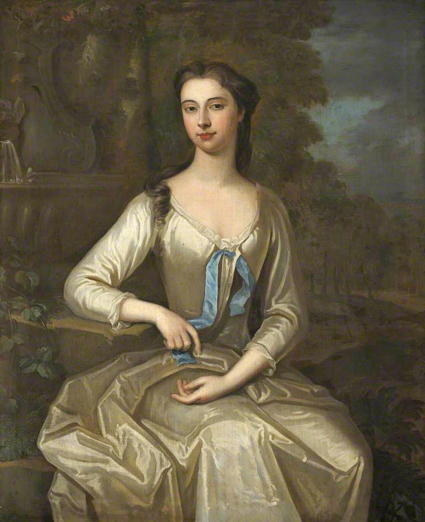 The Honourable Mrs Laura Keppel by Thomas Hudson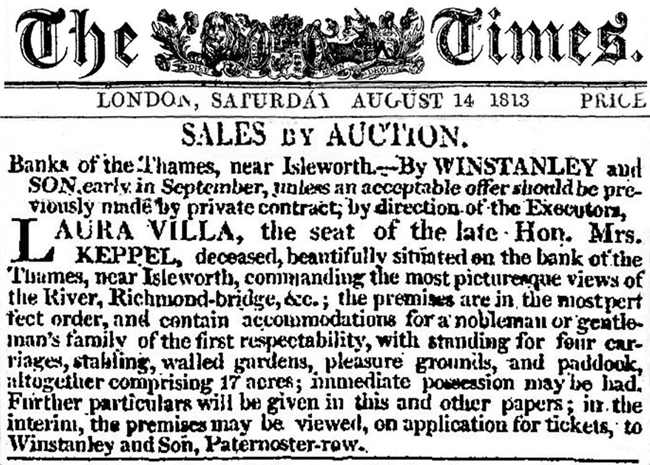 Following Mrs Keppel's death the house was auctioned, firstly in August 1813 and secondly in Apr[l 1814
as presumably the property did not initially sell.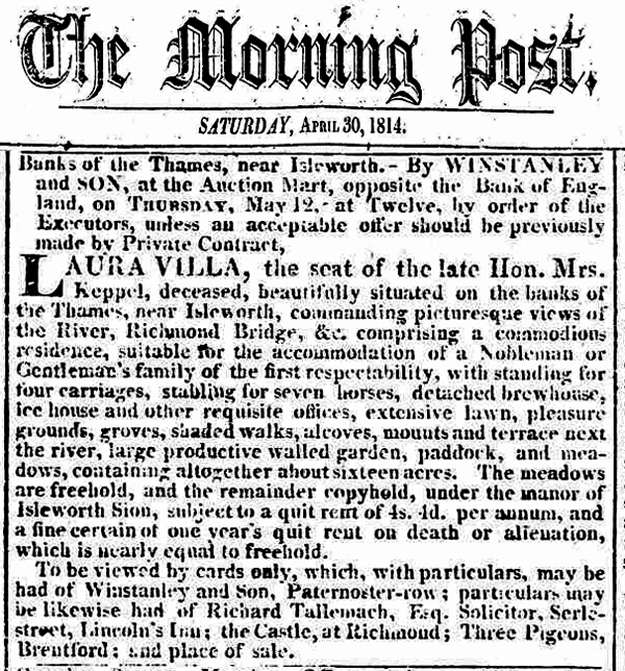 The two Rate Book extracts below show the 3 properties between 1814 and 1815.
In 1814 Mrs Bland is resident at Railshead House, Mrs Keppel's executors are in charge of her old house, and Francis Gosling esq has moved into a newly rebuilt house which for a short time was to be known as Twickenham Park Mansion.

The following year in April 1815 Mrs Keppel's property has a new owner, namely Earl Cassillis and his family who purchased the house as an addition to their main estate in Ayrshire, Scotland, and their London residence in Whitehall Gardens.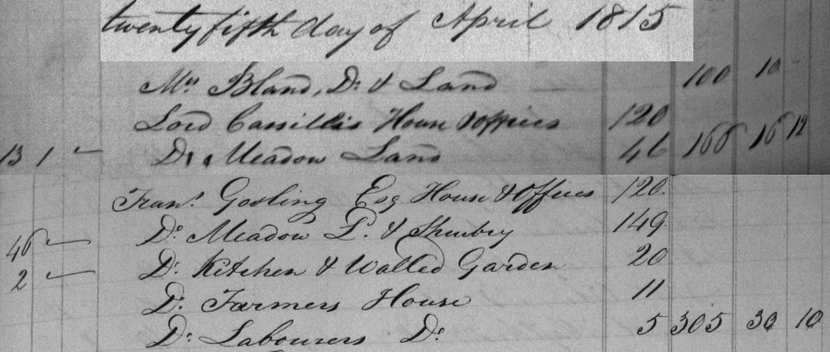 Pictured below are Archibald Kennedy The Earl of Cassillis and his wife Margaret Erskine who he married in 1793. They had 6 children.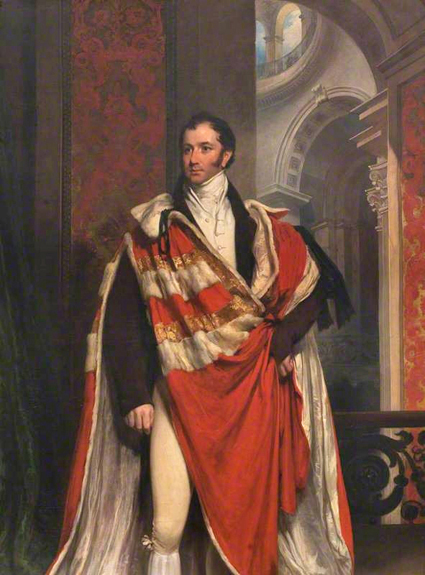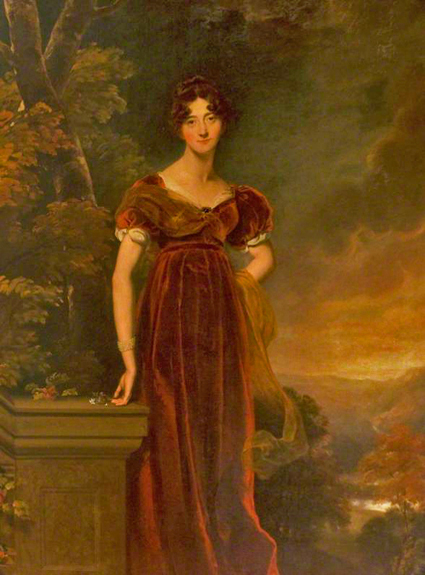 Below is their new home on the banks of the Thames which they purchased when Lacy House was auctioned in 1813.

The property was now called Laura Villa after it's last owner, and is shown below in this 1801 engraving by S Sparrow.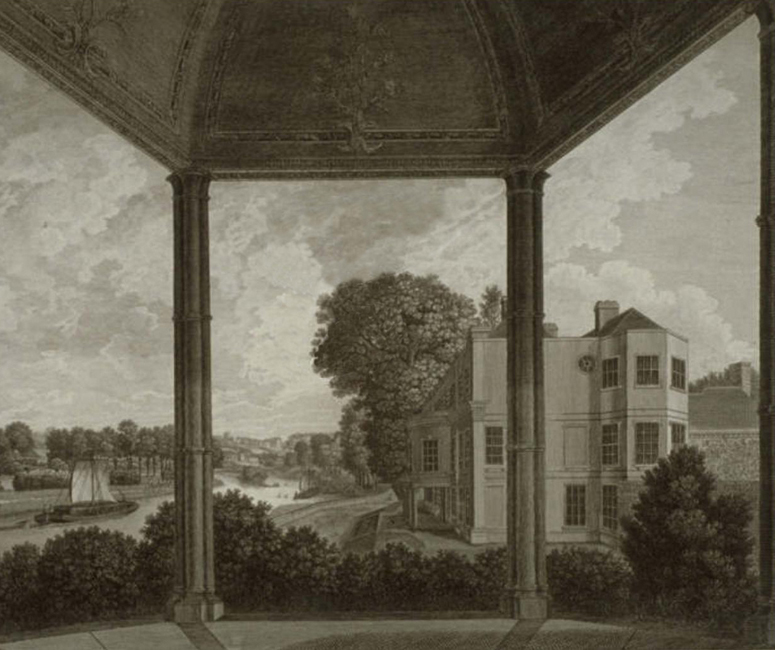 The 1816 book The Beauties of England and Wales details the 3 riverside properties in the northern part of Twickenham Park. It details the houses and their owners at that time.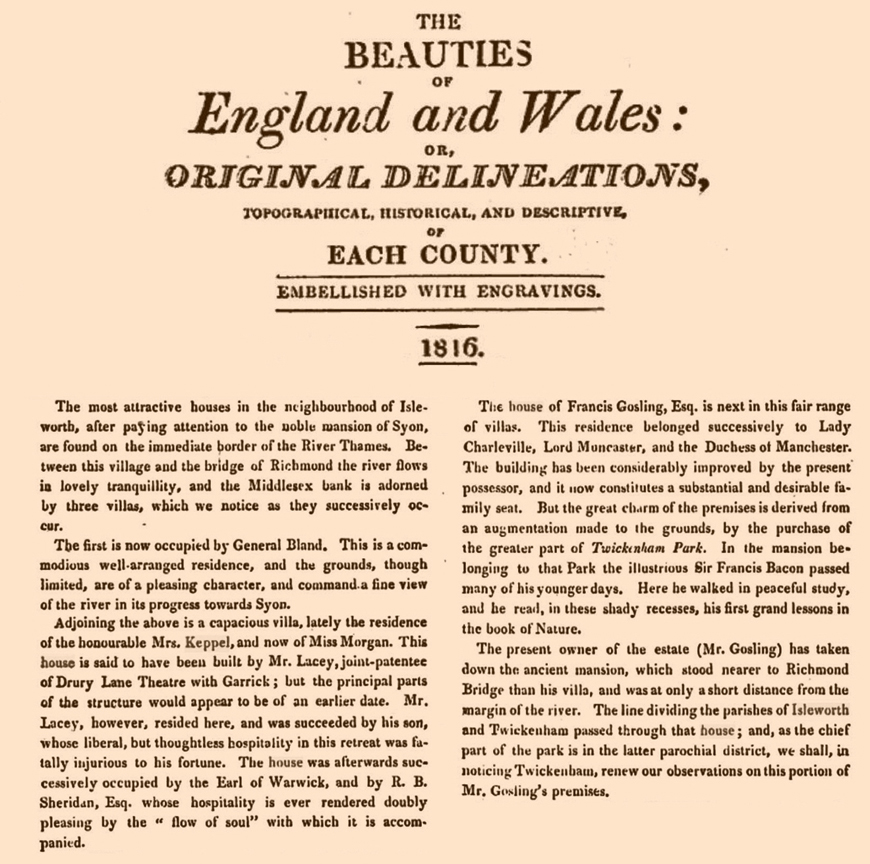 Francis Gosling had completely rebuilt the old house he bought in 1814 but he died in 1817 and the house and surrounding estate known as Twickenham Park was auctioned.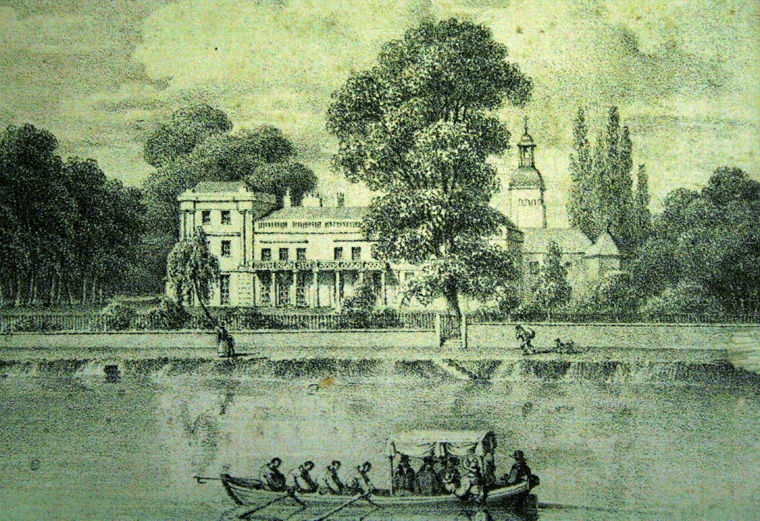 The map below is a detail from the auction catalogue and shows the riverside mansion and immediate surroundings.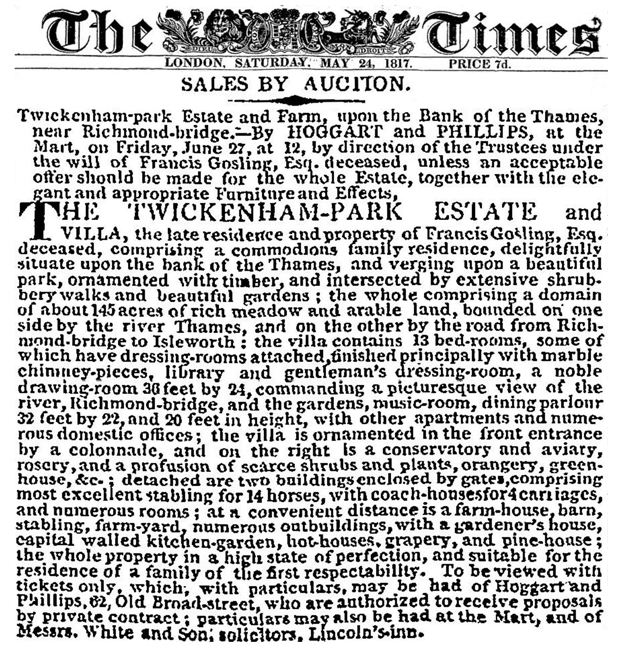 Francis Gosling's estate was purchased by Joseph Todd esq, a successful businessman in London. He appears to have been mainly interested in the southern part of the estate which extended as far as Richmond Bridge.
With plans to build a new mansion, Todd sold Gosling's house to his next door neighbour Earl Cassillis who purchased the house and its surrounding land. He then demolished his own house, the former Lacy House, which was now called Laura Villa.
The auction below in october 1817 may refer to the sale of materials from the dismantled Lacy House.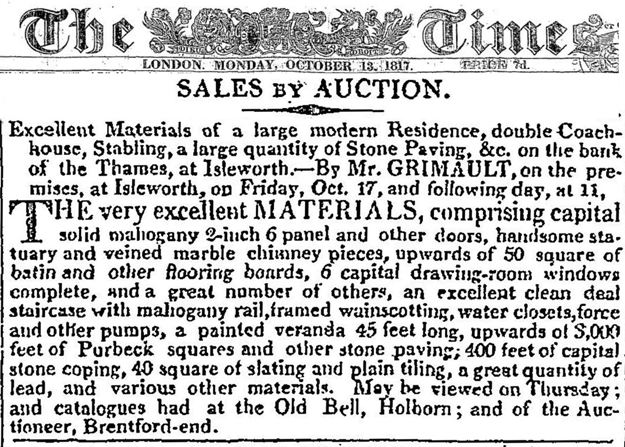 The September 1817 Rate Book shows the 3 Riverside Houses at that time. Mr Birkett is resident at Railshead House, which possibly was now called Seaton House. Next door is Earl Cassillis in the old Lacy House, and Joseph Todd is in Gosling's mansion.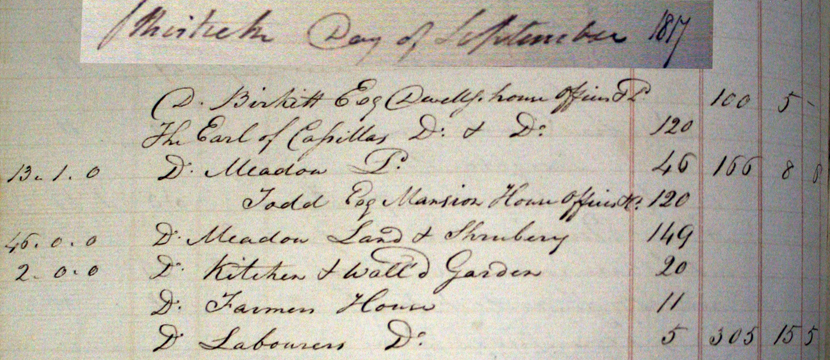 The 1818 enclosure map below shows the northern section of Twickenham Park in detail. On the right is the same area but in 1894.
Click on each image for an enlarged version.
Below is the edited 1818 index for this part of the park showing the 3 houses.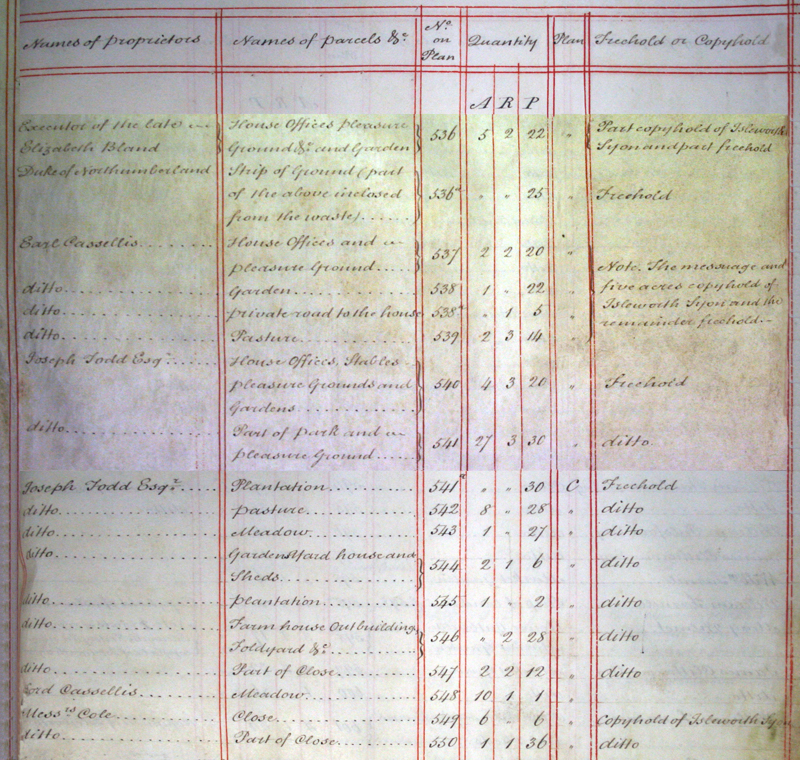 Below is the first mention of Gosling's house being named St Margaret's. This newspaper cutting dates from Feb 6th 1819. Presumably with Joseph Todd acquiring the Twickenham Park Estate in 1817 he must have sold Goslings house to Earl Cassillis during 1818.
In 1819 Earl Cassillis's former home Laura Villa was finally taken down and its materials sold at auction in two parts. Due to the close proximity of the two houses we imagine Cassilis didn't want potential neighbours so close, so he had the old house removed.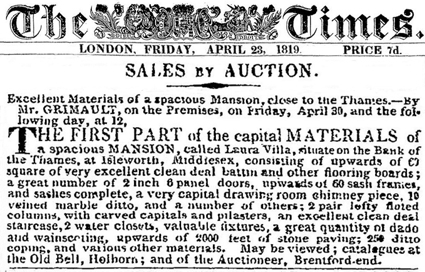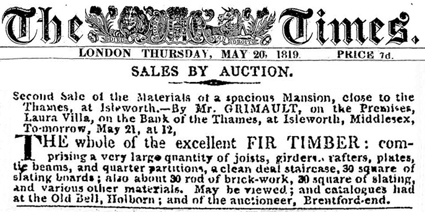 The Earl of Cassillis was firmly established in his new home when his daughter Lady Anne Kennedy married in 1821.

A special Licence was issued for the marriage to take place at Earl Cassillis House, named St Margarets.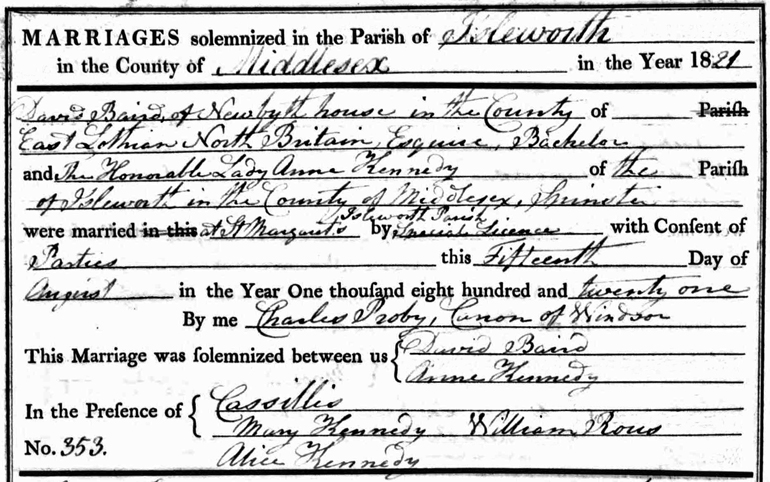 Below is Alexander Nasmyth's 1826 Prospect of London. The view ia from Earl Cassillis London residence in Whitehall Gardens.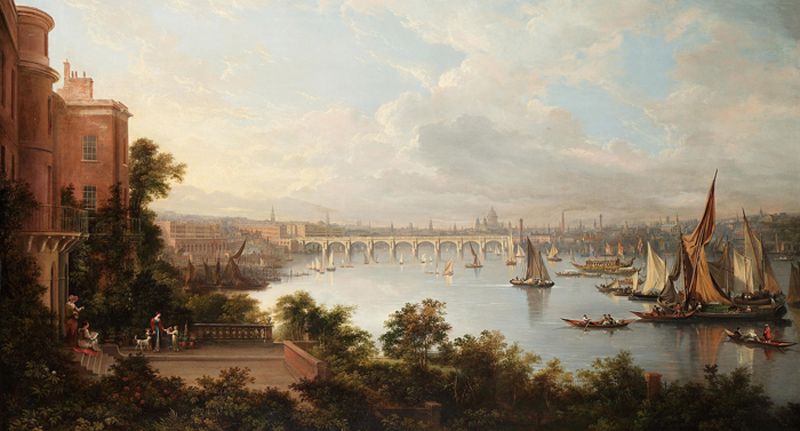 ---