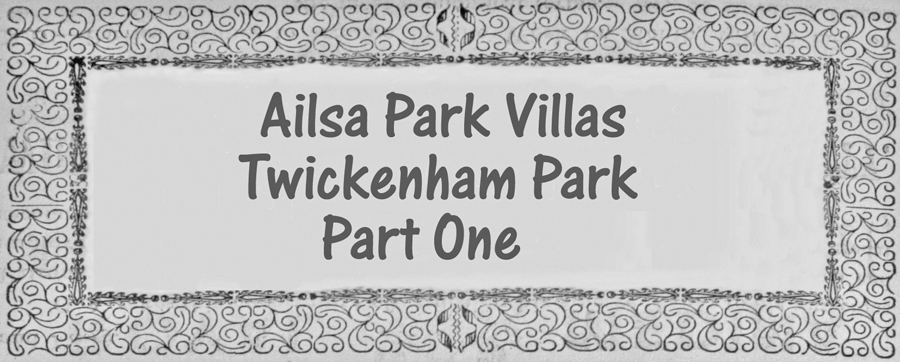 Ailsa Park – Part 1
When the Todd's acquired Twickenham Park they firstly built a new mansion and also a series of houses which were named Ailsa Park Villas.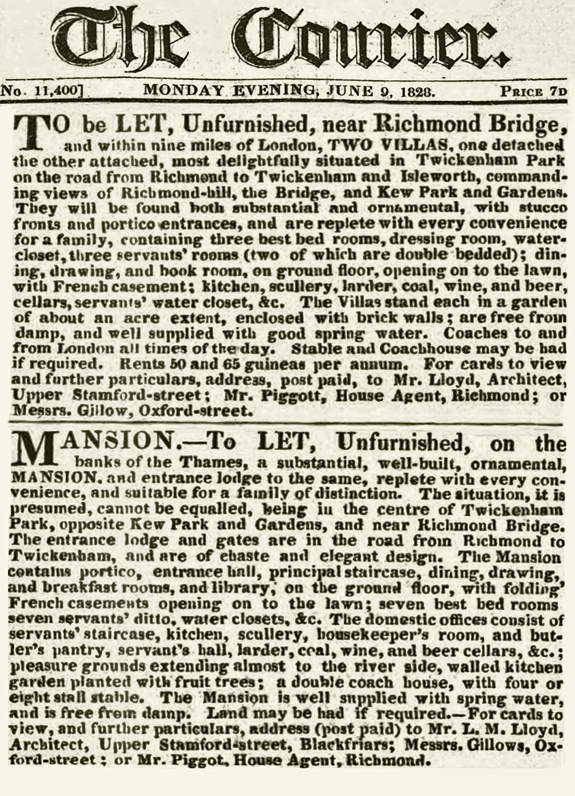 The Todd's commissioned the architet L W Lloyd to design various properties including Ailsa Park Villas during the late 1820's. These properties were intended for rental rather than to be sold.
The 1828 advertisements above show the first two Ailsa Park Villas to be let. These would be No.1 (later named Lawrence House) and No.2 which was semi-detached with No.3. The other villas were still being built at this time. Also the main Twickenham Park Mansion which had just been built was being advertised to let.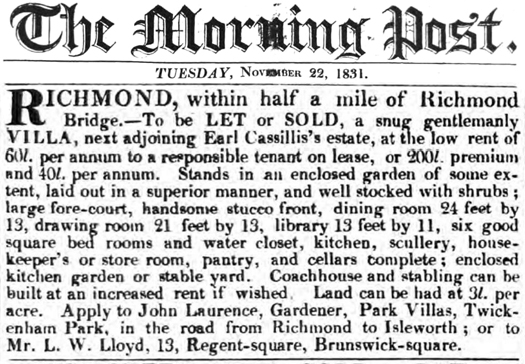 There were 10 properties in total, 8 of them were detached properties, the other two were semi-detached.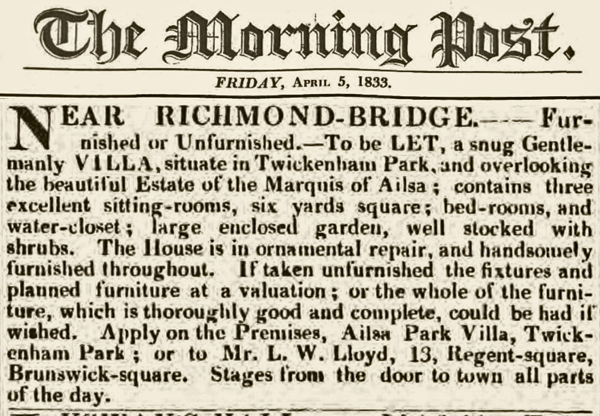 When Joseph Todd died in 1835 his estate(s) were split between his children. His daughter Lucy and her husband Rev John Downes acquired Ailsa Park Villas, and Todd's son Thomas the Twickeham Park Estate.
Ailsa Park Villas are listed below in an 1838 & 1839 Rate Book which we have added the house numbers where known.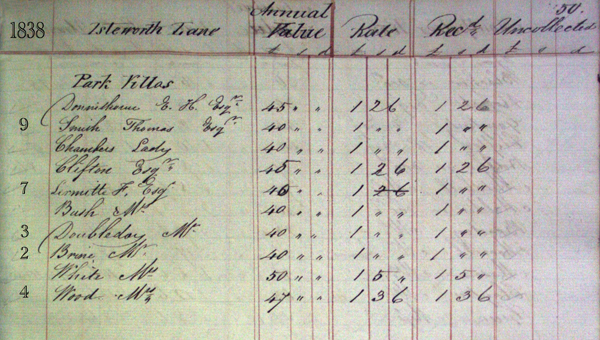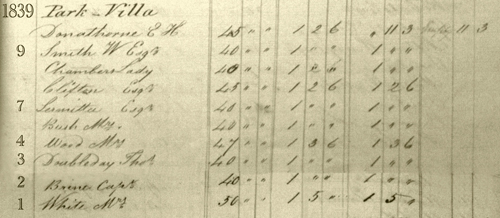 In February 1840 a Mrs White perished in a serious fire in one of the Ailsa Park Villas. The rate books identify that she lived in what became No.1 but it was totally destroyed and subsequently rebuilt as Lawrence House.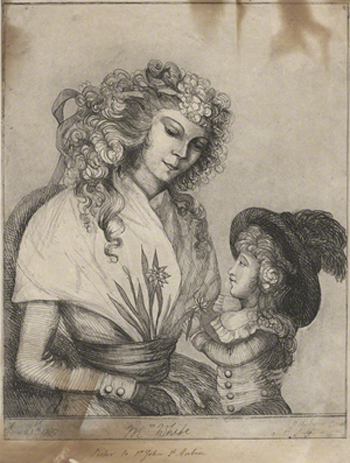 Mrs White was the wife of Major Robert White and was a member of the St Aubyn family of Cornwall. She was born Anne St Aubyn 26th Dec 1762 to parents John St Aubyn and Elizabeth Wingfield. She married around 1790 Captain Robert White 27th Reg Light Dragoons and they had several children. We can find no record of her husbands death which may have occured in military service overseas. One of the family seats of the St Aubyn family was St Michaels Mount near Penzance in Cornwall.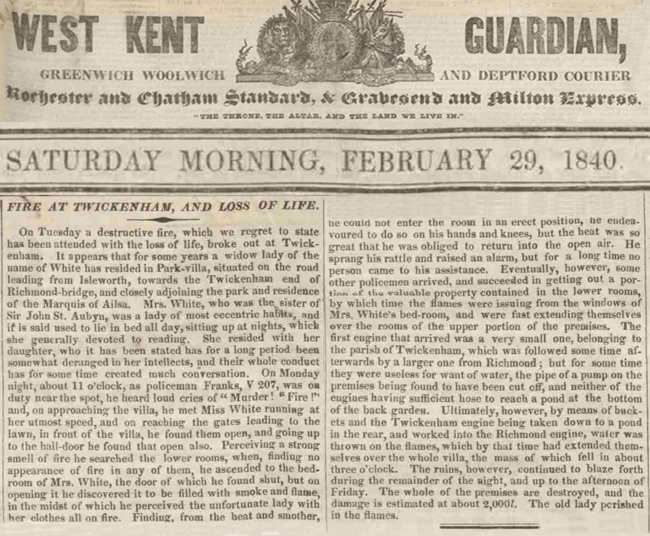 Mrs White was buried in Twickenham Parish Church Yard March 2nd 1840.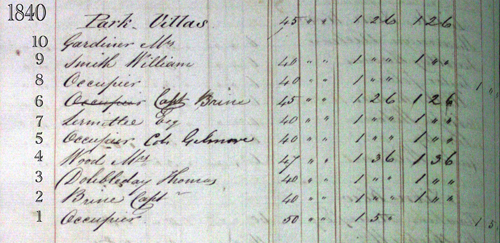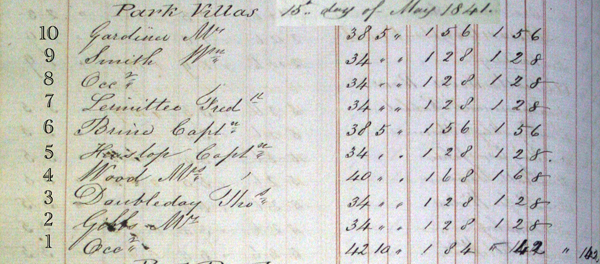 The 1845 rate book is shown below.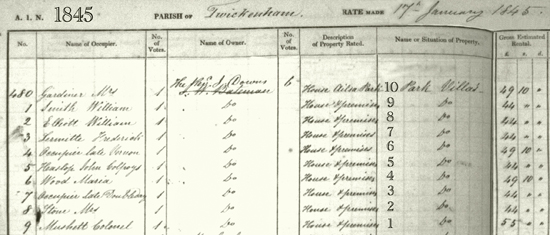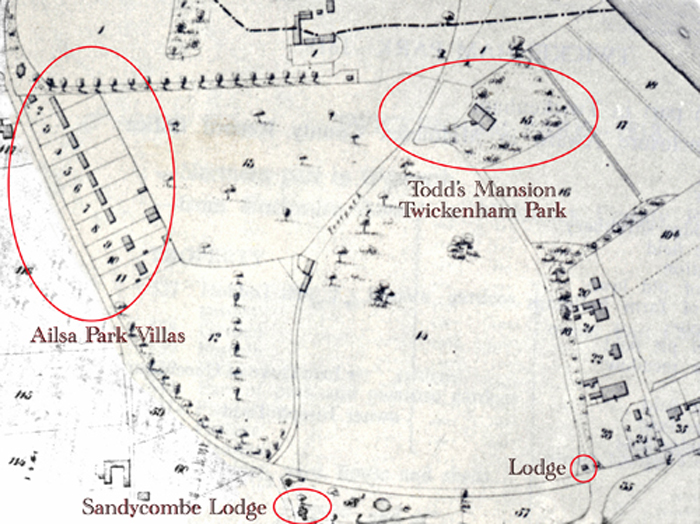 The above 1845 map shows Twickenham Park at that time. Todd's new mansion is shown top right. At this time it was accessed from the main Isleworth to Richmond Road which is now called St Margarets Road.
The mansion had one gate lodge, shown bottom right. Just opposite the park is Sandycombe Lodge. Ailsa Park Villas are shown top left. They occupied the area between St Margarets Railway Station and the roundabout with The Avenue present day.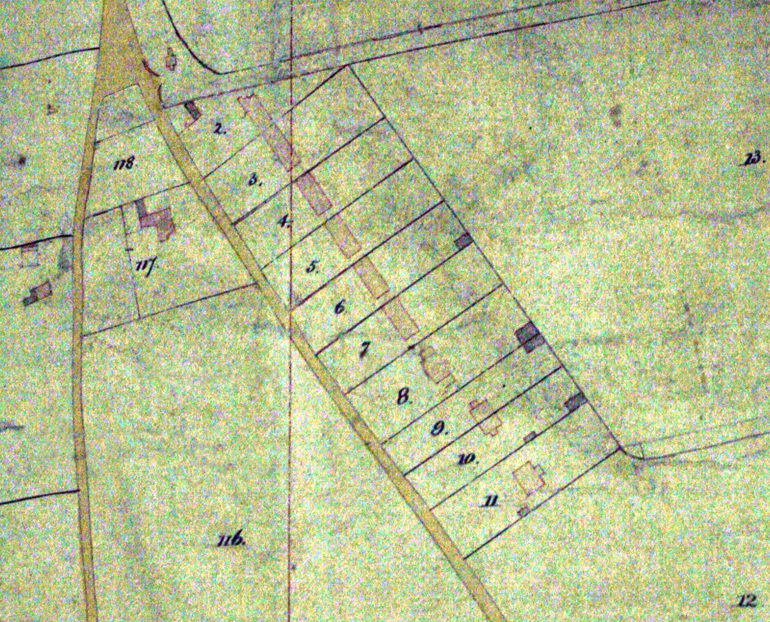 The 1846 map and schedule detail the Villas listing both Landowner and Occupier. The schedule number relates to the map and is not the house number.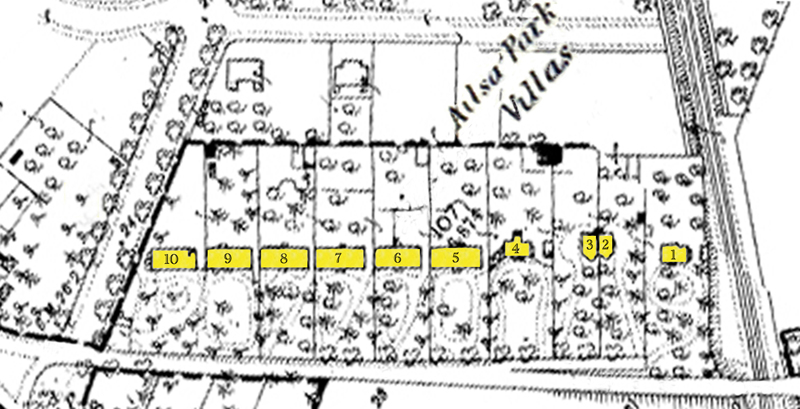 Ailsa Park Villas are shown on the above 1865 map. We have coloured the actual Villas, and
shown their original numbering from 1 to 10.
The 1894 map below shows Ailsa Park Villas which we have individually named, all except No 5 which was not named until the 1930's.
We have also added the house numbers that were allocated to this section of St Margarets Road which were 128 to 146 around 1910.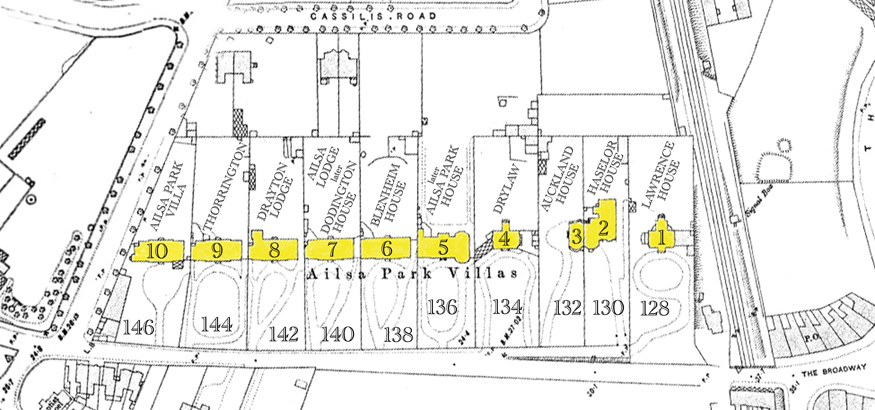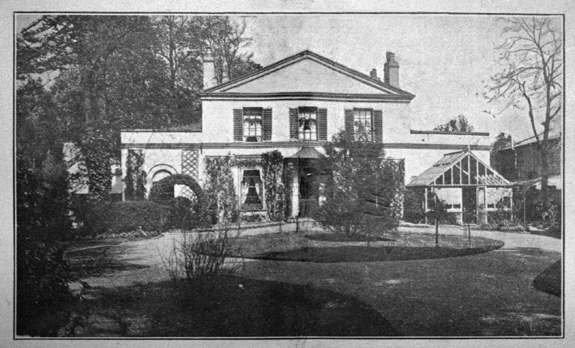 The property above was named Ailsa Park Villa and later Ailsa Park House which was located at 146 St Margarets Rd.
Rear view of Ailsa Park House showing part of the ornamental grounds.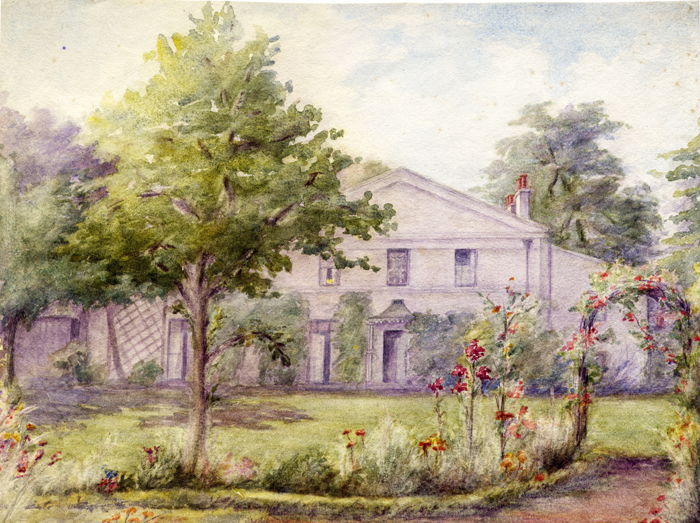 Below is an edited directory listing showing residents living in these properties in 1851.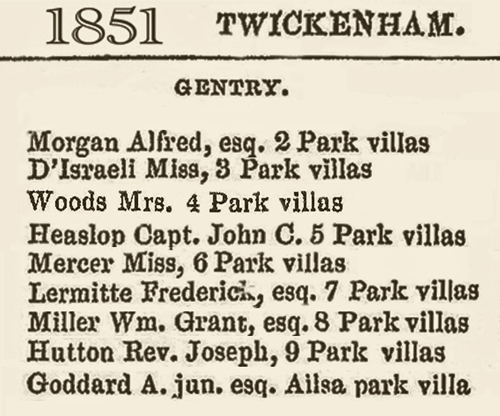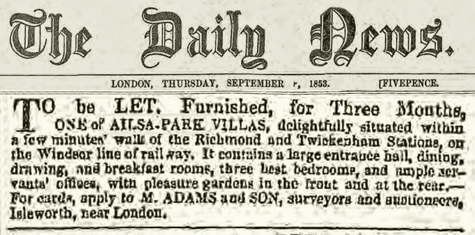 Ailsa Park Villas had two famous residents; Sarah Disraeli, sister of Benjamin Disraeli MP who was to become Prime Minister in 1868. Secondly Charles Dickens the author stayed at one of the Villas during the summer of 1838.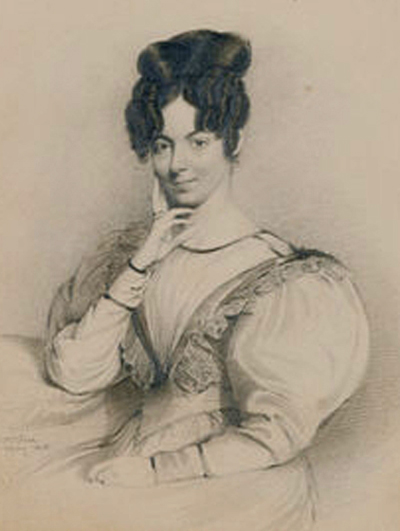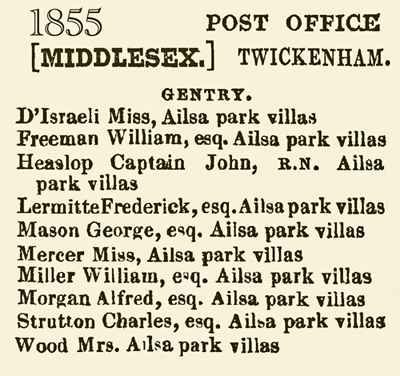 Sarah Disraeli circa 1850s and an 1855 directory showing her resident in Ailsa Park Villas. She is also listed in the 1855 rate book extract below.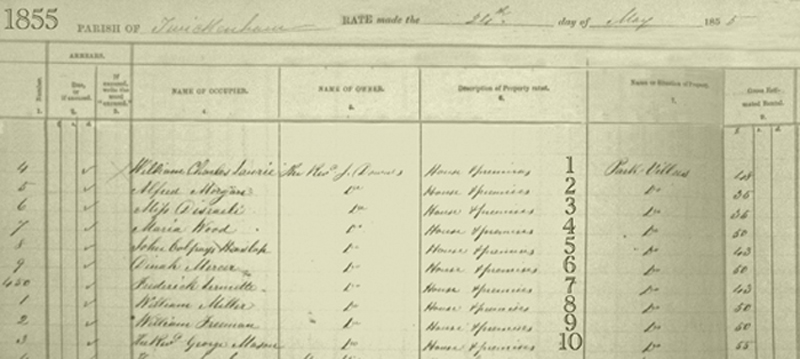 Ailsa Park Villas were up to this time owned by the Landowner, the Rev John Downes whose wife Lucy had inherited from the Todd family. However the Downes family sold off many assets and in 1862 advertised the auction of all ten Villas.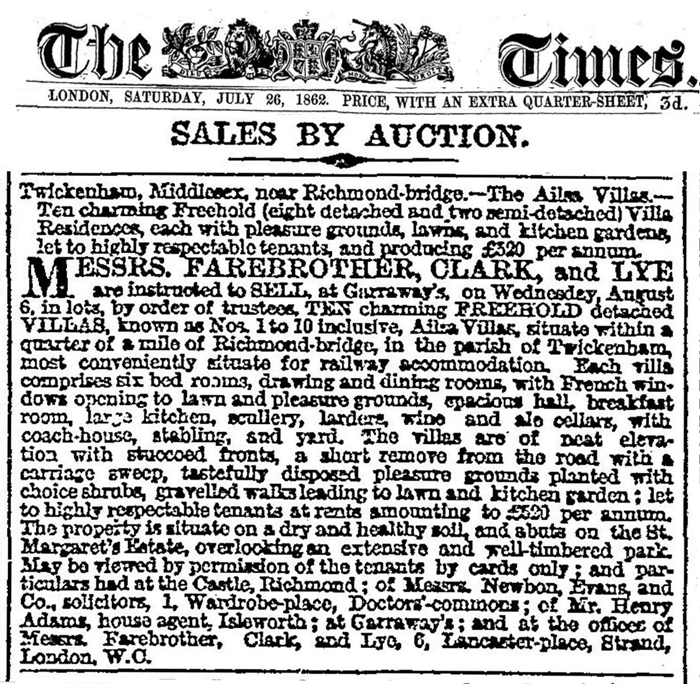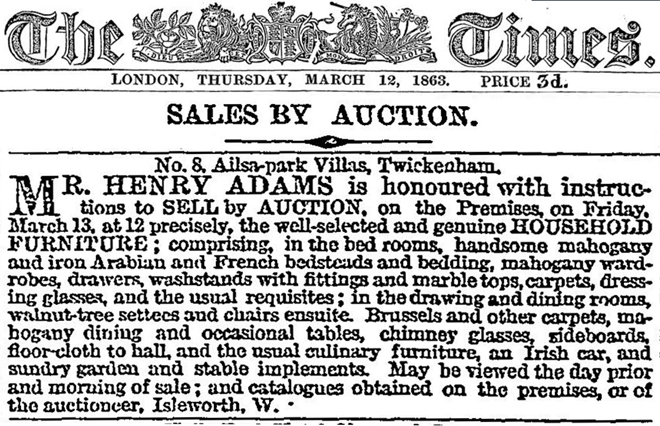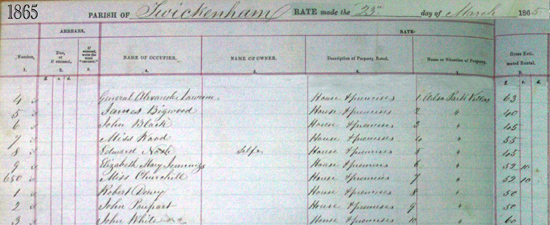 Ailsa Park Villas are shown above in this 1865 Rate Book extract, and below in this 1866 directory.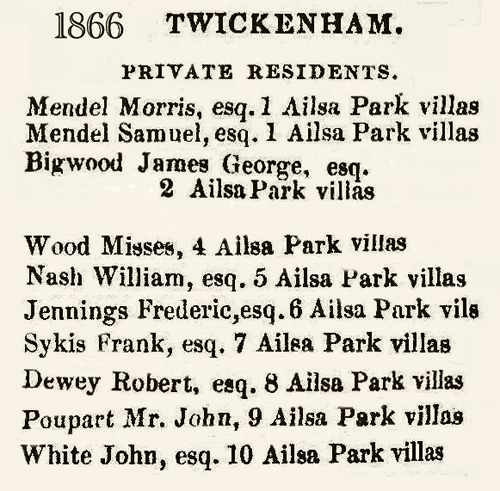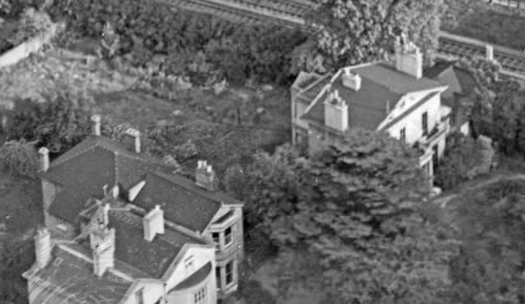 During the early 1870's No. 2 Ailsa Park Villas was substantially enlarged with a new extention to the side and rear. The photo above shows the enlarged property and also Lawrence House which had been rebuilt in 1840 following a serious fire. The extended villa No.2 is depicted in the watercolour below by W. Lewis Turner in 1912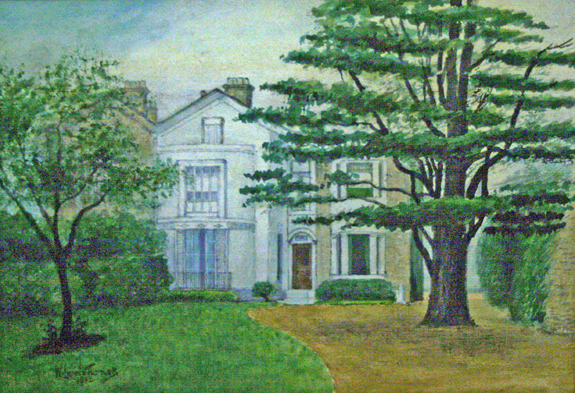 The question of which villa Charles Dickens rented in the summer of 1838 has been the cause of much debate over the years. It is popularly believed that he rented No.4 (which still exists). This is incorrect as the article below states that he stayed in the second house (No. 2).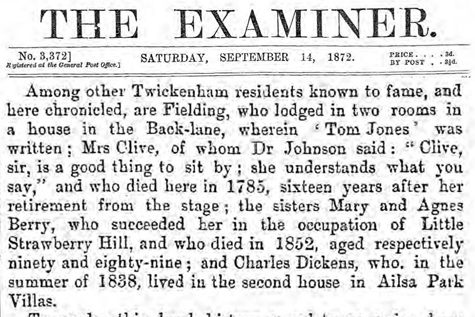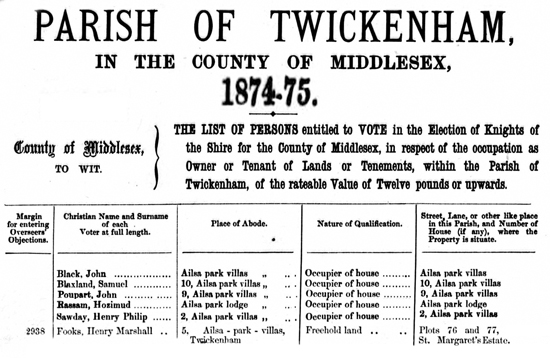 The 1875 Rate book extract below shows the rateable value of No.2 has increased as the size of the property has doubled.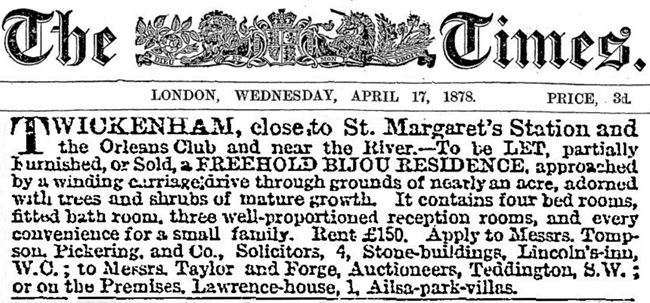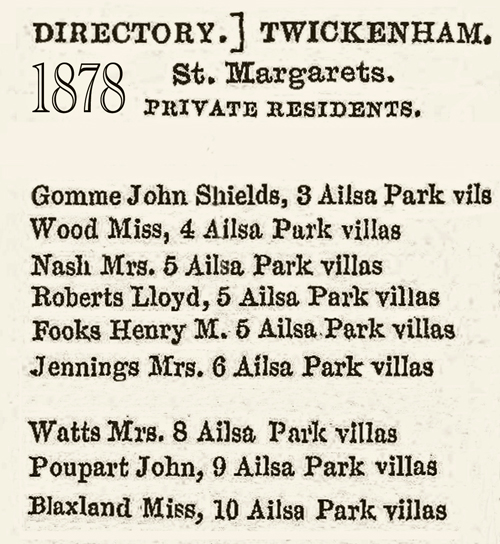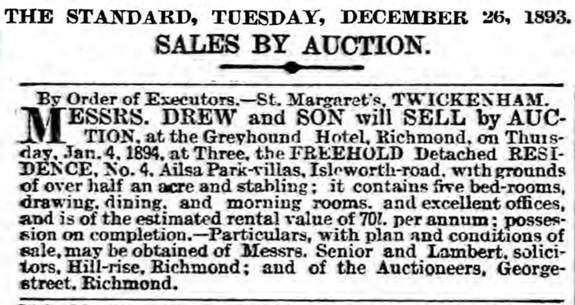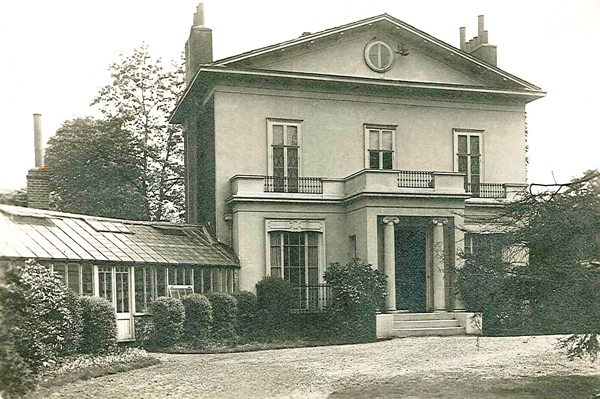 This property was originally 4 Ailsa Park Villas and was later named Drylaw, and numbered 134 St Margarets Rd.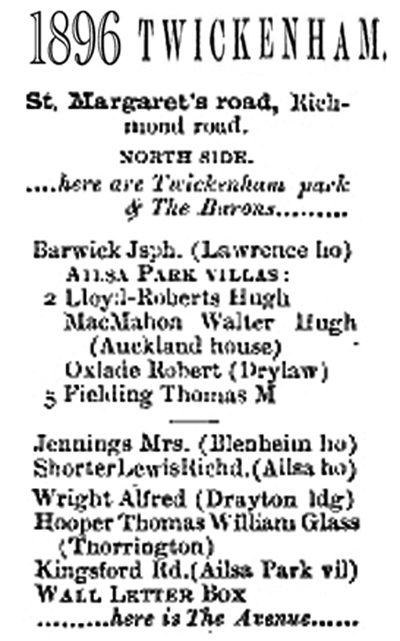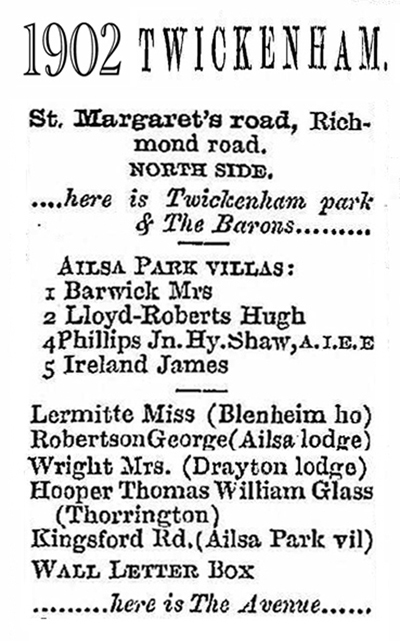 The 2 directory extracts above from 1896 and 1902 show the residents at that time.